business
$85 million in exports of locally assembled cars, up 51.7%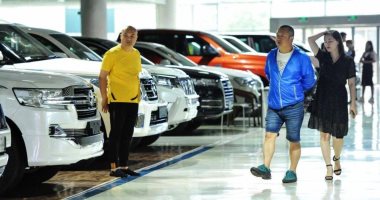 The Egyptian state was able to localize the car industry in Egypt, as the latest report issued by the Central Agency for Public Mobilization and Statistics revealed an increase in exports of locally assembled cars by an estimated 51.7%, to record 85 million dollars, compared to last year, when it recorded only 56 million. According to recently released central bank data.
On the other hand, of course, Egypt's imports of cars declined by 14.8% during the past fiscal year 2022, to reach $2.12 billion, compared to $2.49 billion.
It is noteworthy that the Council of Ministers issued, during 2022, the controls of the law on importing cars of Egyptians residing abroad and exempting them from fees and customs, in exchange for a deposit in dollars that is transferred from abroad for the account of the Ministry of Finance, as the target of the initiative to exempt expatriate cars from customs and taxes is about 500 thousand cars, And that its hard currency proceeds exceed 2.5 billion dollars, equivalent to 50 billion pounds.
Last June 2022, the Egyptian government announced the launch of the "Auto Industry Strategy" with the aim of attracting huge foreign investments to set up projects to manufacture cars and industries feeding them in the industrial zone in East Port Said. The strategy includes facilitating customs release by amending the customs tariff law.
And not only that, but President Abdel Fattah El-Sisi approved, last October 2022, Law No. 162 of 2022, establishing the Supreme Council for the Automotive Industry and the Fund for Financing the Environmentally Friendly Car Industry, whose aim is to grant more incentives for clean electric cars, and an incentive of up to 50,000 pounds. For the consumer who buys an electric car, with the aim of encouraging this industry, and initially establishing 3,000 charging points to charge electric cars.
The Egyptian government also signed a memorandum of understanding with "Sumitomo Egypt" to establish the largest factory for the Japanese company in the world to manufacture electric braids for cars and vehicles, under the free zone system, on an area of ​​150,000 square meters in the 10th of Ramadan City.