technology
A cloned cow is born in Russia for the first time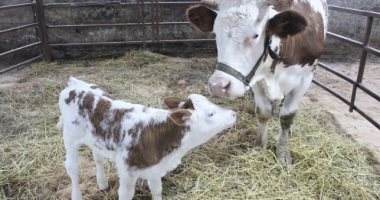 A cloned cow in the Moscow region brought offspring for the first time in Russia, and the press service of the Ministry of Agriculture in the Moscow region reported that the heifer was born healthy and weighed 40 kilograms, adding that the heifer was called Decapristka.
The press service quoted the deputy head of the government in the Moscow region, Georgy Filimonov, as saying: "genome editing technology can only be developed if cloned animals are able to produce viable offspring, therefore, the birth of the first offspring from a cloned cow is a great achievement for scientists from the Moscow region." And the health of the two animals (mother and newborn) is good and they are under constant control by veterinary specialists, at the "Arntest" Center for Scientific Research in the field of animal husbandry.
And according to what was reported by the "RT" website, a spokesperson for the ministry said that a first copy of the cattle was obtained in Russia in April 2020 at the aforementioned research center by the nuclei of somatic cells that were used as donor cells, and a calf born at that time received its name "Zahra" from the name of the line. The cells that were used as nucleus donor cells in the cloning process.
According to the Ministry, cloning using genetically modified somatic cells is today considered a basic technological platform for modifying the genome of livestock and other farm animals, and in this regard, specialists are conducting research aimed at improving important stages of the genetic technological chain.
The press service added that the results obtained indicate the need for more research to develop somatic cloning as a basic technological platform in the process of genetic engineering of livestock.