Entertainment
A famous artist seeks the help of Muhammad Ramadan in order to work…and the response is a surprise
The Egyptian artist Ihsan al-Turk, who presented about 200 works of art throughout his artistic history, is going through harsh conditions, as he no longer finds any new works in which he participates.
This prompted him to launch a distress call on social media, when he spoke in a video clip about his conditions, and how he was initially forced to move from his apartment in Nasr City, and sell it to move to a popular area.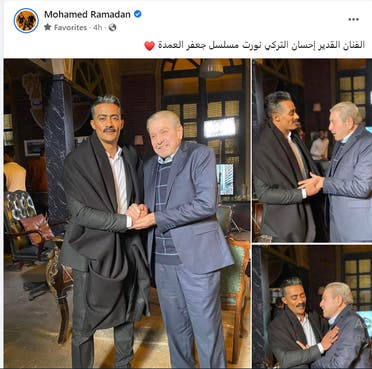 Likewise, he started selling his home furniture, in order to manage his daily conditions, especially since he was no longer offered any artwork, and when he communicates with the directors, they promise him to find a job opportunity, which is not achieved in the end.
The last of which is the "Al Ostoura" series.
The Egyptian artist also considered that there is a conspiracy against the generation to which he belongs, despite what they presented to Egyptian art, but he issued a distress call to the Egyptian artist Mohamed Ramadan, who had worked with him in 4 artworks before, the last of which was the series "Al Ostoura".
Where he assures him that he is in the position of his son, and they worked together before, so he asks him not to forget and remember him, and to use him in the artworks that he presents during this period.
For his part, "Number One" interacted within a few hours, as he published a group of photos that he collected with the artist, Ihsan Al-Turk, on the filming site of the series "Jaafar Al-Omda", which is starring Ramadan, and it is scheduled to be shown next Ramadan.
Muhammad Ramadan commented on the pictures, saying, "The able artist, Ihsan al-Turk, has enlightened the Jaafar al-Omda series," to announce his joining the family of the series and fulfilling his stated desire.