Entertainment
A foreign site offers Omar Sharif's holdings for sale at a cheap price, and his son submits a report.. Photos
View a foreign website's collectibles belonging to the late star Omar el-shiref For sale at a cheap price, and among those items are the prize of the Venice Festival and the prize of the Vienna Festival, in addition to Omar Sharif's plato and his bank card and his membership card in the French Federation of Horse Racing.
Tariq Omar Sharif, the son of the late star Omar Sharif, submitted a report to the French police after he learned that some of his father's belongings were sold at a public auction in France at a cheap price, and described the matter as theft.

Omar Sharif's quotes

Omar Sharif's collection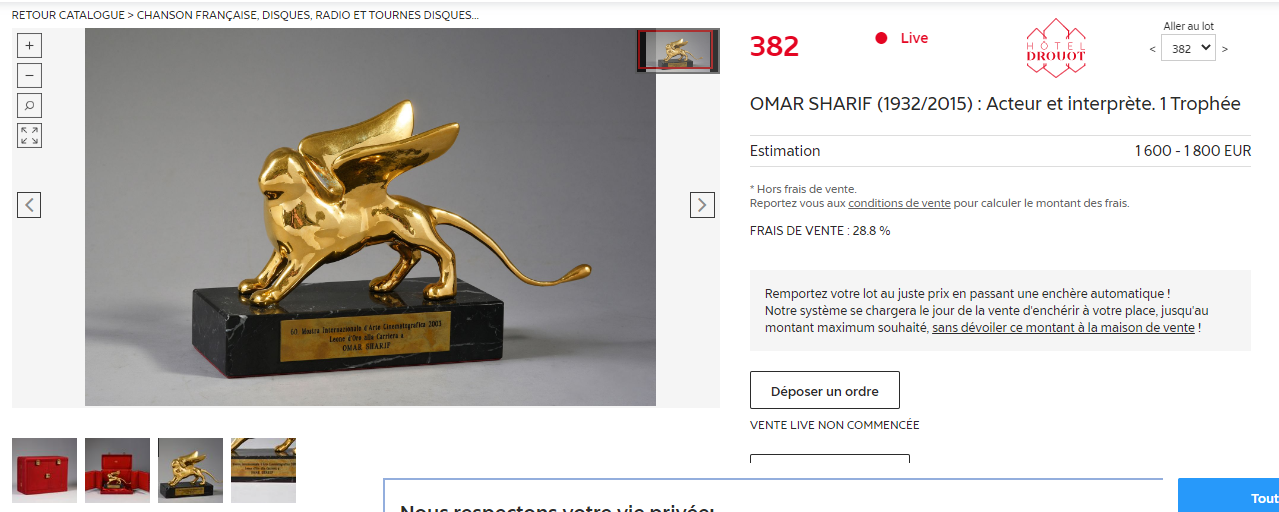 Omar Sharif's collection
The late artist Omar Sharif was born in 1932 in Alexandria, and his father was a timber merchant, while his mother, Claire Saade, was a woman of a society from a family of aristocratic Lebanese-Syrian origins, and during his studies he had many experiences on the school theater, and he joined the British Victoria College in Alexandria.
After graduating, he worked with his father, and traveled to London to study acting at the Royal Academy of Dramatic Arts, and after his return to Egypt, he presented many performance experiences, and also participated in theatrical performances on the Victoria College stage where he was studying, until his colleague at Victoria College offered him International director Youssef Chahine starring in his 1954 movie "Struggle with the Valley" with Faten Hamama, and giving him the name Omar Sharif. He later went on to stardom after the success of "Struggle in the Valley".
In 1955, Omar Sharif married Faten Hamama and they had their son Tarek. Sharif met with Faten Hamama after that in a number of films, which are "Our Sweet Days" in 1955, "Struggle in the Port" in 1956, "No Sleep" in 1957, "The Lady of the Palace" In 1958, "River of Love" in 1961 and "Land of Peace" in 1957
In the early sixties, he met the international director David Lean, who discovered him and presented him in many films. He presented his first film, "Lawrence of Arabia" in 1962, which was very popular. Omar continued with the same director, David Lean, to play several roles in several films, including: The film "Doctor." Jivago, the movie "Yellow Rolls Royce", and the movie "Green Snow". Among his films in world cinema are "The Last Valley", "Tamarind Seeds" and others..
Omar Sharif died on July 10, 2015 due to a heart attack, and his funeral was held at the Mosque of the Field Marshal Tantawi in the Fifth Settlement, attended by a large number of his friends and relatives, and he was buried in the cemetery of Mrs. Nafisa.