business
A large turnout for the "The Fugitive Gathers Peoples" celebration at the National Museum of Egyptian Civilization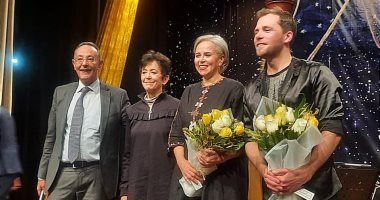 Under the title "The Fugitive Gathers Peoples", the Grand Theater of the National Museum of Egyptian Civilization in Fustat witnessed a large presence in the musical celebration that the museum hosted yesterday evening in cooperation with the Embassy of Switzerland in Cairo.
The audience listened to the Swiss international harpist "Alexander Boldachev" and the Egyptian harpist "Manal Mohieldin", as part of the cultural and artistic program organized by the museum.
The celebration was attended by a group of public figures and celebrities, and a large number of lovers of art, music and heritage, including Ambassador Amr Moussa, former Secretary-General of the League of Arab States, Ambassador Yvonne Baumann, the Swiss ambassador to Cairo, and many former ministers and ambassadors of foreign countries in Cairo, who are eager to attend. Various museum activities.
Dr. Ahmed Ghoneim, CEO of the Museum Authority, started the celebration with a speech in which he welcomed the attendees and guests of the celebration, expressing his happiness at the great success witnessed by the celebration, which comes within the framework of the cultural and artistic program that the museum organizes periodically, which is considered a strong start to a rich cultural season for the museum during the year 2023.
He also emphasized the role of the museum as a cultural, community and educational institution, in addition to its role in raising tourist and archaeological awareness, improving artistic taste, and linking the Egyptian people of all age and societal groups to the museum and the heritage and civilization of its ancestors.
During her speech, Ambassador Yvonne Baumann also expressed her great appreciation for the effort and cooperation between the museum and the Swiss embassy to bring this celebration to light in a way that befits the fact that the museum is one of the most important cultural projects in the world, noting that music brings together the peoples of the world and unites them by listening to and tasting it despite the different languages ​​and cultures.
The words were followed by a musical segment during which the Swiss harpist Alexander Boldachev presented a group of the most famous traditional and contemporary international music pieces by the greatest authors of world music, and the Egyptian harpist Manal Mohieldin presented a group of eastern and western music.
Then the two musicians presented a musical duet, during which they played a piece of international music.
It is noteworthy that the Swiss artist Alexander Boldachev is a world-class harpist, who has won a number of international awards, and has also played before at the Bolshoi Theater.
The Egyptian singer Manal Mohi El-Din is one of the most famous harp players in the world and the first female harp player in the Cairo Symphony Orchestra in 1991. She also represented Egypt in many international forums until she succeeded in building a large fan base inside and outside Egypt.