Entertainment
Abeer Sabry admits… I have worked more than "Uturn" in my life
A brilliant artist, who is able to paint between different characters smoothly and honestly, and the most important thing is to embody her and unite her with the characters she presents. The artist is Abeer Sabry, who spoke in an interview with Al-Arabiya.net about the details and scenes of the success of her latest series, "Uturn", and how she excelled in her stability. The emotional that attracted attention, in addition to the scenes of her cooperation with the artist, Reham Hajjaj, and the criticisms of the series during its presentation during the Ramadan season, in addition to her upcoming projects.. This is the text of the dialogue:
First of all, tell us about your success in diversifying roles and with different personalities?
It is a blessing from God that I always choose different characters, and I see that the actor has a great burden to embody the character in a different way, even if it was presented in previous works. The author sets a course of events and a scenario for talking during the scene, and this depends on the actor's performance and his ability to integrate along with the director's instructions. As for me, I always try with every character I embody to add to it new details that fascinate the audience at the time of watching it, in addition to focusing on the psychological composition, which I consider the most important in preparing for the character.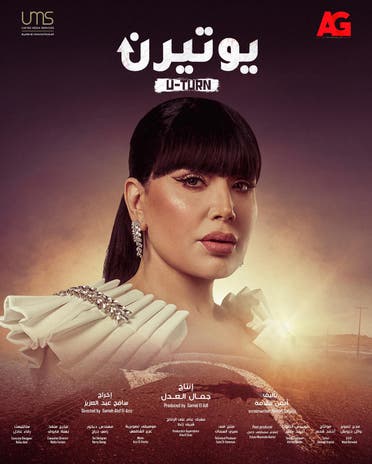 How do you work on the psychological composition of each character?
I am looking for centers of deficiency in her personality, mental illness, history, and childhood, on which psychological complexes are usually based, which negatively affect her future and her life later, and which turn the actor into body language to express the details of the character and integrate into the events.
How did you deal with the character "Hoda" in the series "Uturn"?
I dealt with her with a lot of fear and tension because it is a new role for me, where she marries a man younger than her in age, and this character is very widespread around us in reality, and society itself is against this idea even though a man marrying a woman younger than him is normal, so I was in front of She is a difficult character and rejected by society, but I was pleased with the role of "Huda" in her ups and downs, contradictions and surprises.
How did your emotional stability come about with the character of "Huda"?
This is what I was talking to you about, that I embody the character's condition and delve into its details and history, which made me imagine the character of "Huda" that you presented, and I imagined that she is calm, obedient, sacrificial and has emotional stability because she runs a stock exchange company and marries a man younger than her in age and problems with his mother And his family does not end with "Huda" at all, so it was necessary for her to have emotional stability and calmness to maintain the stability of her relationship with her husband.
In your opinion, did the "Uturn" series succeed in embodying women's problems?
Of course, but a large part of it and not all of it, as the series discussed issues of concern to a large segment of women who face crises in their lives, and find themselves in a dilemma, not knowing how to act towards the problems that surround them, as it serves as an awareness message for society and for women and girls.
What is your comment on the voices calling for the necessity of women's sacrifice for the sake of their families?
I strongly agree, of course, because I strongly believe in the idea of ​​a woman's sacrifice for the sake of her family, and this series confirms the importance of that idea, and the most important thing that distinguishes the series is that the events are close to reality, as the work discusses issues of concern to every Egyptian family.
The series was subjected to some attacks during its presentation.. What do you think is the reason?
They are electronic committees that attack Reham Hajjaj, and this happens every year away from the series, and I am amazed at these behaviors, so why would a person devote money, time and effort to harm a person who makes art, because the series is successful by all standards and is considered a great work of art, and I advise the attackers to be logical, and to watch Work without catching errors.
Away from the attack.. How was the backstage atmosphere with Reham Hajjaj?
The scenes with Reham Hajjaj are enjoyable, and she is a very respectable artist who works very hard in her work and a very kind person who helps everyone and loves all her colleagues. "I used to see her in previous works and I liked her as an actress. We didn't work on the series."
Has Abeer Sabry ever made a "transformation" in her life?
"I have certainly done more than one turn in my life." I do not think that it is difficult to do and recalculate at any moment, and this path must be taken immediately if you do not feel happy or comfortable with the place or the people around you.
Where is Abeer Sabri from the cinema?
I am preparing to release the movie "Eid Night", which is a special movie for me, because it brings me together with a great constellation of art stars headed by the able lady of the Arab theater, Samiha Ayoub, along with Yousra, Sayed Ragab, Reham Abdel Ghafour, Mayan Al-Sayed, Mahmoud Hafez, Yousra Al-Lawzi, Hanadi Muhanna, Ahmed Khaled Saleh, and the film was written by Ahmed Abdullah, directed by Sameh Abdelaziz, and it deals with a very interesting topic.
What does the film deal with?
The film takes place in a dramatic framework, and deals with women's issues as well, through the suffering of several women who live on an island, and are exposed to several problems because men do not understand their rights. The film presents 6 heroines, each with a different story, about several realistic issues that are always raised in our current society, including "The Marriage of Underage Girls" and "Female Circumcision", as well as discussing the oppression of women in general, in the stages of childhood and youth, during one night, which is the night of the vigil and the first day of Eid, and it is scheduled to be shown in the upcoming Eid Al-Fitr film season.
Finally, what is your assessment of the experience of electronic platforms?
A very special experience, with distinctive ideas, and unfortunately we are still far from them, and I see that we are orbiting the Thousand and One Nights.