technology
CES 2023.. Developing a $2,000 smart oven that bakes pizza in just 10 minutes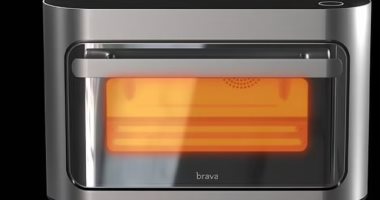 Brava unveiled a smart oven at CES that makes an entire pizza in just 10 minutes. The new model, called Brava Glass, can run with an iPhone, offers 10 different cooking settings, now has an all-glass front, and costs $2,000. .
According to the British newspaper "Daily Mail", the oven is designed with internal sensors to ensure perfect and consistent cooking, and a camera to see your food being baked and fried, toasted and reheated, up to 500 degrees Fahrenheit per second, which reduces energy costs and speeds up cooking times.
"With the addition of Brava Glass to our product portfolio, we hope to offer a more immersive cooking experience for families who share the common nostalgia of cooking around a stove or campfire," said John Pleasants, Co-Founder and CEO of Brava, in a statement.
The company claims that the new Brava Glass can cook an entire meal with less power than it takes to preheat a conventional oven. This is because it can cook different food groups simultaneously at different temperatures through its multiple capabilities.
Users can choose from a range of settings, in addition, this new model will continue to feature the popular internal heat-resistant camera and machine vision to monitor cooking progress, with access to remote viewing on smartphones via the Brava Home app.
"When we built Brava, while we went through many prototypes before we got to the final design that embodied the look and function we dreamed of, we always imagined a glass window," said Thomas Cheng, Co-Founder and CTO of Brava.
Cheng added, "With Brava Glass, our inspiration has come full circle as we continue to prioritize user experiences, giving chefs at every level more control and a chance to see our innovative technology in action."