business
Chambers of Commerce: Opening "Welcome Ramadan" outlets in the governorates with discounted goods of up to 30%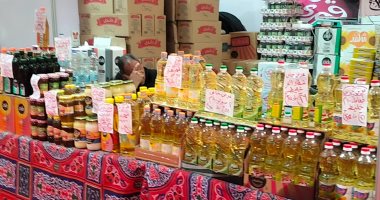 The chambers of commerce announced the organization of more than 200 static exhibitions in addition to the mobile outlets that will tour villages and hamlets to provide food and meat commodities at reduced prices ranging from 20% to 30%.
This was stated by Alaa Ezz, Secretary General of the Federation of Chambers of Commerce, where he confirmed that this annual initiative, which was launched early this year to start from January with the aim of further reducing prices and the availability of commodities, as His Excellency the governors provided lands near residential gatherings as well as services such as electricity, guarding and cleaning, and the chambers established outlets and manage it.
The Minister of Supply and Internal Trade and the Minister of Trade and Industry also met with major producers, importers and commercial chains, where they agreed on discount rates and set up a mechanism to supply the outlets with discounted commodities, either directly from the producers or through the Holding Company for Food Industries, which will distribute through its warehouses in the governorates, adding that this will be integrated With the outlets of the Ministry of Supply, the Ministry of Agriculture, the Ministry of Defense, the Ministry of Interior and the Ministry of Local Development, along with hundreds of mobile outlets that will roam villages and hamlets to reach all citizens in all parts of Egypt, in addition to the participation of commercial chains in a corner for discounted goods and the establishment of the main exhibition in March at the Cairo International Conference Center in Nasr City .
He pointed out that some chambers did not wait for the month of January and started to establish their outlets, which reached 18 outlets in 6 governorates, and that exhibitions will take place in all parts of Egypt during the month and will continue until the holy month of Ramadan.
And he confirmed the participation of major producers with discounts of up to 30% according to the type of commodity, as it was agreed with the producers to specify popular basic commodities with large discounts that are less than the cost and compensate for their loss from the rest of the company's products, and those discounts reach 21% in oil and margarine, and 27% in beans, and 26 % in lentils, 20% in meat, 25% in fish, 22% in dairy products, 30% in yamish, and 20% in tea.
He explained that due to the rush of a few merchants to chains and outlets to buy large quantities of discounted commodities intended for citizens, a maximum number of units to be purchased has been set with the prohibition of the presence of transport vehicles in the area and intensification of control over outlets and chains to prevent the exploitation of discounts by some weak-minded people. merchants.
He stated that the Ministers of Supply, Internal Trade, Trade and Industry agreed with the manufacturers and importers of food commodities and commercial chains that the food industries factories work at full capacity in three shifts after the government and the Central Bank accelerated the release of production requirements to reach maximum capacity, with the aim of reducing the unit's share of fixed expenses. And thus reducing prices while increasing the supply of goods in all governorates and creating competition to stabilize prices, with the necessary mechanisms in place to monitor supply chains and verify that none of the weak-minded people withhold any commodity through the internal control of producers, and ensure that there are no jumps in prices in The coming months and the absorption of increases through the loyal sons of Egypt, including makers and merchants.
He added that immediately after the announcement of the departure of large quantities of commodities from the ports, and even before their arrival in the markets, the price of a ton of beans dropped by 5,000 pounds and lentils by 7,000 pounds, as those who withheld the commodity feared a drop in prices, so they put what they stored in the markets, which led to a return to the fair price.
He pointed out that the outlets began in the capitals of the governorates to gradually spread to cities and centers, and His Excellency the Governors allocated the following places, which will be completed successively in the rest of the governorates.
• Giza Governorate: King Faisal – Ard Al-Liwa in Agouza – Al-Munib – Al-Mansuriya Canal in Al-Haram.
• Alexandria Governorate: Azarita – Al Attarin – Al Gomrok – Al Mansheya.
• Sharkia Governorate: Zagazig – Al-Ibrahimiya – Al-Husayniyya – Minya Al-Qamh – Deyerb Negm – Tenth of Ramadan – New Salhia.
• Menoufia Governorate: Sidi Khamis Mosque, West Shebin El-Kom District.
• Qalyubia Governorate: Banha – West Shubra neighborhood – Qalyub – Toukh – Al-Qanater Al-Khairiya – Al-Mustashah area.
• Kafr El-Sheikh Governorate: Al-Hamoul – Baltim.
• Fayoum Governorate: in front of the Muslim Youth Club.
• Beni Suef Governorate: Al-Nasr Park – Al-Fashn – Al-Wasta.
• Sohag Governorate: next to Sohag Stadium – in front of Sohag Center, in addition to holding an exhibition in every center in the governorate.
• Minya Governorate: Mallawi Center on Al-Irfan Street – Abu Qurqas Center – Showroom on Al-Abasiri Street.
• Cairo Governorate:
– Sayeda Zeinab: Extension of Al-Sad Street – Zeinhom Square – Al-Mawardi District.
– Ancient Egypt: Trace of the Prophet – Sheikh Mubarak's Map – Ain Al-Sira.
– Mokattam: Fountain Square – Central Hill, next to Zelzal Residences.
– Al-Khalifa: Al-Ashraf Street, next to the land of the mills – Al-Abagia – below Al-Hadarat Bridge.
– Al-Tabin: Al-Wasat Street, next to Al-Sa'a Square – Al-Safa and Al-Marwa Streets – Corniche Al-Nil Street, at the entrance to Al-Wasat Street
– Helwan: Abu Rujaila Street – Izbat Al-Bahariya and Al-Qibliya – Izbat Al-Walda in Arab Ghoneim.
– Tora: Entrance to Shaq Al-Tha`ban area on the Autostrad Road – Misr Helwan Agricultural Street in Tora Al-Asmant District – Institute of Police Trustees Street.
Al-Maasara: Al-Orouba Street – Al-Khashab Street in front of Abu Bakr Mosque – in front of Al-Maasara Metro Station.
– Al-Basateen: Al-Basateen Public Street in front of the Electricity Company – Street 250 in front of the Olympic Center – Bir Um Sultan area.
Dar Al-Salam: Fayoum Street – Schools Complex Street – Street 9 intersection with Faraj Youssef Street.
– May 15th: in front of the neighborhood building.
– Maadi: Arab Square.