technology
Elon Musk: $8 to verify your account with the blue tick on Twitter "blue"
In a tweet on his official Twitter account, new owner of the Twitter platform, Elon Musk, revealed a new version of Twitter Blue that will include a "blue verification mark" that can be accessed for $8 per month in the US, with prices in other countries adjusted according to the purchasing power of consumers in those countries. markets.
"The current lords and peasants system on Twitter who has or doesn't have a blue checkmark is bullshit, power to the people! Blue for $8 a month," he tweeted.
In his tweet, Musk said, the price will be adjusted by country in proportion to purchasing power parity, and you will also get priority in responses, mentions, and search, which is necessary to overcome spam / scams, the ability to post long video and audio, and half the number of Advertisements, paywalls will also be available for publishers who want to work with us.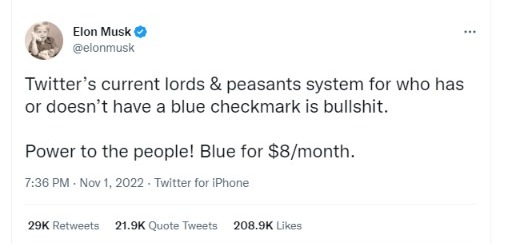 He added that this would also give Twitter a revenue stream to reward content creators.
With this new Tweet, a new Twitter Blue subscription can allow anyone to get the certification mark and get the Twitter Blue features easily.
Up until this point, Twitter Blue was a completely different service, it wasn't related to verification, and it cost $4.99 per month, which means that $3 in fees means a 60% increase in price.
As for Twitter Blue, its main offerings were the ability to read ad-free articles, undo or edit tweets (in some countries), and customize your navigation bar.
It also lets you set NFT as your profile picture, however, as of Tuesday, the ad-free articles portion has been removed, although it appears that Musk wants to work with publishers somehow, given the intent to allow Blue subscribers to bypass the paywall system. .
Musk hasn't announced when the new feature set and pricing will go into effect, but currently, the in-app documentation for Blue is for the legacy system. These rewards for content creators in practice.