business
Engineering Industries: Forming the first board of directors for the Shipbuilding and Repair Division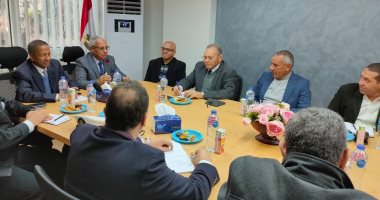 The Shipbuilding and Repair Division of the Chamber of Engineering Industries of the Federation of Egyptian Industries held its first meeting at the Chamber's headquarters in Alexandria, with the participation of representatives of 35 companies, headed by Eng. .
During the meeting, the Board of Directors of the Division, consisting of 13 members, was selected, and they are Engineer Muhammad Al-Halawani, Captain Muhammad Nihad, Engineer Shadi Al-Badrawi, Engineer Nadine Mansour, Engineer Hassan Kamal, Engineer Ahmed Rayan, Engineer Abdou Al-Ketbi, Engineer Majed Al-Sambaksani, Engineer Muhammad Al-Maadawi, and Engineer Samuel Fixed .
The meeting also resulted in the selection of Major General Ibrahim El-Desouki as head of the division, and the selection of two vice-chairmen of the division, who are a representative of the Marine Arsenal Company in Alexandria and engineer Adel Naseer.
During the meeting, the Division's work plan was developed during the coming period to comply with the Chamber's strategy in the current session, represented in cooperation between the Division's companies in localizing the industry, building and repairing ships.
Eng. Mohammed Al-Budi explained that the Chamber of Engineering Industries will prepare strong training programs for this sector, in coordination with the concerned authorities.
Major General Ibrahim Al-Desouki, head of the division, confirmed that during the next stage, a database of Bataa and ship repair companies will be built, and the broad base of them will be included in the division to provide services, help and support them in achieving greater growth.