business
Expectations are that the annual average price of the OPEC basket of crudes will rise to $103 per barrel
The monthly average price of the OPEC basket of crudes declined during October 2022 to $93.6 per barrel, a decrease of 1.8% compared to the previous month, according to the monthly bulletin on petroleum developments in global markets.
The report issued by the Organization of Arab Petroleum Exporting Countries (OAPEC) added that OPEC expectations indicate an increase in the annual average price of its basket of crudes in 2022 to $103 per barrel, an increase of 47.3% compared to 2021.
The report continued, that the average prices of the OPEC basket of crudes decreased during the month of September 2022 by 6.5% (6.6) dollars per barrel, compared to the previous month, to reach $95.3 per barrel.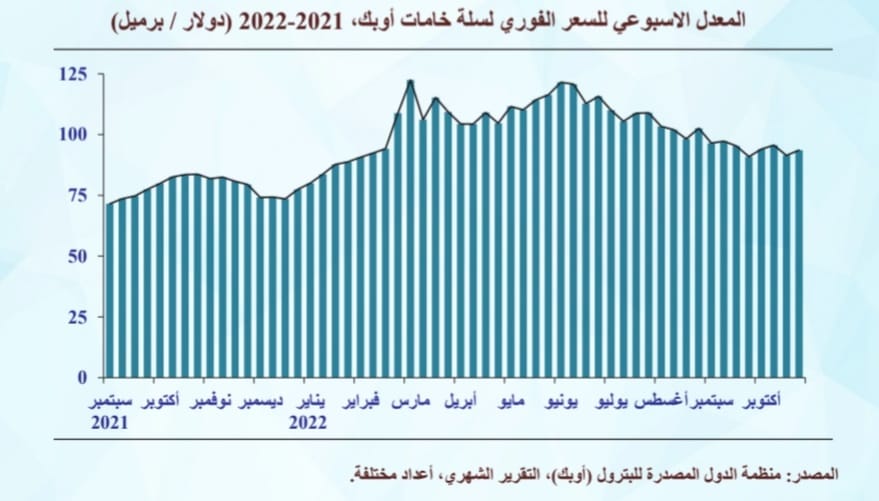 OPEC
The report stated that this was mainly due to growing concerns about slowing global economic growth and demand for energy, and increased selling in futures markets that caused high volatility, in addition to weak demand in the spot market, particularly in the Atlantic basin due to the refinery maintenance season that took place. It is supposed to peak during October and November 2022, and the withdrawal of the US strategic stockpile will continue.
The OPEC basket of crudes consists of 13 crudes, which are the Algerian Sahara Blend, the Angolan Girassol crude, the Congolese Djino, the "tropical" Guinean Zafiro, the Gabonese Rabi, the Iranian heavy crude, the Iraqi Basra Light crude, the Kuwaiti Export crude, the Libyan Sidr crude, the Nigerian Bonny Light, the Arab Saudi Khafif, Emirati Murban, and Venezuelan Miri.