The player Sarah Essam made the journey to the Atlantic Ocean to become the first Egyptian of origin in the Spanish League, after she had previously achieved the same feat in England.
The Spanish club Albacete included Sarah Essam, a player for the Egyptian national team, in its ranks.
Sarah became the first Egyptian restricted from the Egyptian Football Association to play in the Spanish League.
Sarah spoke to FilGoal.com About her new achievement: "A big step in my football career, I am proud to represent Egypt and the Arab world in Spain."
Albacete Club celebrated the arrival of Sarah Essam to its ranks through social media in a different way, adding the ancient Egyptians to the fore.
"I wanted the idea of ​​my presentation to be something that expresses my origin, our history, and what I belong to," Sarah commented.
"The celebration of me indicates the extent of the interest, and I am proud and appreciative of that, and I strive to be an addition to the team," she added.
And she continued, "What attracts me in Spain is the way of playing 'Tiki-Taka', which is completely different from England, which depends more on long balls."
And she continued, "Albacete is a great team from which Barcelona legend Andres Iniesta and Real Madrid legend Keylor Navas came out."
Sarah talked about Sarah Ismail, a Spanish woman of Egyptian origin, who recently joined the national team.
She said: "Sarah Ismail contacted me and expressed her desire to play for the Egyptian national team. I was pleased with her decision and informed the coach, who welcomed the matter."
She explained, "She has experience with Spain in a younger age group, and she will be an addition to us in the national team, and I look forward to playing together."
Sarah Ismail, who holds both Egyptian and Spanish nationalities, but chose to play for the Egyptian national team, plays for Real Zaragoza, which plays in the third division in Spain.
And Sarah Ismail previously played with the Barcelona reserve team for six years.
Sarah Essam concluded, "My ambition with the Egyptian national team is to be in a higher rank and go to the African Women's Nations."
Sarah Essam, 23, had previously played for Stoke City, England.
Sarah Essam plays within the ranks of the Egyptian national team and occupies the center of the striker, as well as playing in the position of the right wing.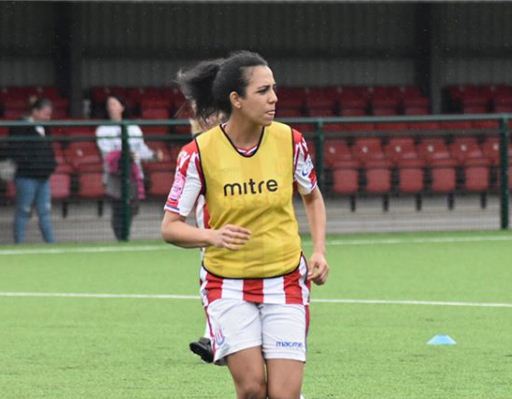 After two rounds, Albacete occupies eleventh place with 3 points, one point behind second place.
Albacete was in the Spanish Premier League from 2014 to 2019.
Albacete is in the second division for the fourth consecutive season and is seeking to qualify for the Premier League.
The first place holder qualifies directly to the Spanish Premier League, while the second to fifth place owners play to reserve the second card.