business
Financial Supervision: Amending the Regulations for the Real Estate Development Company's Employees Insurance Fund
Dr. Mohamed Farid, Chairman of the Egyptian Financial Supervisory Authority, issued Resolution No. 1761 of 2022, regarding the approval of the amendment of the bylaws of the articles of association of the private insurance fund for employees of the Egyptian Kuwait Real Estate Development Company.
The first article of the resolution, of which "Youm7" obtained a copy, states:
The Egyptian Kuwaiti Real Estate Development Company Insurance Fund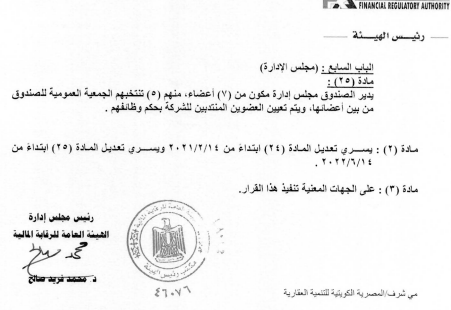 Egyptian Company Insurance Fund
It is noteworthy that the number of registered private insurance funds amounted to 764 funds at the end of 2021, of which the worker amounted to 694 funds, in addition to 70 funds under liquidation, benefiting about 5 million members, with total annual contributions of 13.6 billion pounds at the end of 2021, and the value of investments amounted to Private insurance funds by the end of 2021 value 102.3 billion pounds, with a growth rate of 19.5% compared to the previous year.
It is mentioned that the private insurance fund is every system in any association, union, body, or individuals linked by one profession, one job, or any other social connection that consists without capital, and whose purpose, according to its statute, is to pay compensation or benefits to its members or beneficiaries. Specific financial benefits, periodic salaries, or pensions.
The insurance funds related to the insurance sector, which are a form of savings tools, are special insurance systems, which are registered in the registry established for this purpose in the Authority, so that they become separate from the entity that created them, and are created for the purposes of granting benefits to a group of employees of the entity that created the fund. In the form of insurance benefits, ancillary pensions, social benefits, or health care.
The value of the collected premiums for property and liability insurances during the period from January to July of 2022 amounted to about 31.8 billion pounds, compared to 28.4 billion pounds during the same period in 2021, with a growth rate of 12.2%, and the total compensation paid by insurance companies amounted to 15 billion pounds during the period from January to July 2022 compared to EGP 12.8 billion during the same period in 2021, with a growth rate of 17.3%.