business
Giza Commercial: A carton containing oil, sugar, pasta and rice is available for 50 pounds at the Welcome Ramadan exhibition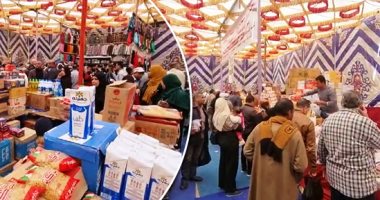 Representative Adel Nasser, Chairman of the Giza Chamber of Commerce, announced the participation of the National Service Projects Authority through a special pavilion in the Welcome Ramadan exhibition, which includes all food products, in addition to the presence of a company and safety chains in the Ministry of Interior, which made offers to the citizen, with a discount rate of 60%, through cartons dedicated to the name Long Live Egypt. It includes a liter of oil, a kilo of rice, a kilo of sugar, a kilo of pasta, and a can of tuna for 50 pounds.
The Giza Chamber is holding the Welcome Ramadan exhibition in Faisal on an area of ​​2,000 square metres.
The President of the Chamber thanked Prime Minister Dr. Mostafa Madbouly for opening the main Welcome Ramadan exhibition in Giza Governorate, accompanied by the Ministers of Supply, Industry, Agriculture and Local Development, and the Governor of Giza, within the framework of Dr. Mostafa Madbouly's continuous support for the Chambers of Commerce to exercise their social role in communicating with citizens in all governorates through Commodity exhibitions that contribute to the provision of commodities at reasonable prices to relieve citizens
He also emphasized the coordination and cooperation with Major General Ahmed Rashid, Governor of Giza, in holding the Welcome Ramadan exhibition, as the governorate and its executive bodies provided all the logistical needs of the exhibition, including land, electricity and water, while meeting all the demands of the exhibitors and managing the exhibition, in addition to providing the necessary places for the establishment of other exhibitions in the cities and neighborhoods of Giza.
The head of Giza Commercial referred to the support of Engineer Ahmed Samir, Minister of Trade and Industry, in overcoming all administrative and financial obstacles that require spending on establishing exhibitions and encouraging him to the chambers of commerce to allocate the necessary budgets for holding exhibitions and facilitating the necessary procedures, praising the full support of Dr. Food Industries with heavy participation in the main Welcome Ramadan exhibition in Giza and the rest of the exhibitions in the governorate, where the Holding Company for Food Industries participated with 11 of its companies in the exhibition, including wholesale companies, sugar, mills, fish, meat, oils and juices, under the direct auspices of the company's leaders, Major General Ahmed Hassanein, Chairman of the Board of Directors and Major General Magdy El Shater, Deputy Chairman of Board of Directors .