business
Gold prices today, Wednesday, in Egypt 10/26-2022
Gold prices today in Egypt, Wednesday, October 26, 2022, are witnessing remarkable stability at the same levels of opening trading on gold today, after prices rose by about 8 pounds, and gold in Egypt recorded a clear fluctuation over the past days between rise and fall due to disturbances in the gold market globally Change in the volume of supply and demand for gold.
Gold prices today:
Carat 18 recorded 975 pounds.
21 caliber recorded 1138 pounds.
24 caliber record 1300 pounds.
The gold pound is 9120 pounds.
21 karat gold price today
Gold prices today in evening transactions record 1138 pounds per gram of the main caliber in the gold market, as 21 karat gold in Egypt is the caliber that records the highest sales in the gold market in Egypt, and 21 karat gold moves about 8 pounds today.
Gold prices today, Wednesday, 18 karat


Today, Wednesday, gold prices are witnessing a rise in 18 carats, which is the second carat in terms of the volume of gold sales in Egypt. per gram.
24 karat gold prices today.. bullion gold
Bullion gold prices, 24 karat gold, are witnessing high levels of 1,300 pounds per gram, which is reflected in the prices of gold bullion in Egypt, where 24 karat gold is the caliber component of bullion in Egypt, and gold of this caliber reaches record levels with the rise in demand for bullion of different weights in Egypt.
Gold prices in the global stock exchange


The price of gold recorded Wednesday, October 26, 2022, its highest level in two weeks, with the decline of the dollar and US Treasury bond yields, amid expectations that the Federal Reserve will ease the policy of raising interest rates, starting from December 2022. October 13 US gold futures also rose 1% to $1,673.80 an ounce.
The decline of the dollar affects gold globally


The dollar extended its losses to reach its lowest level in more than a month against rival currencies, making gold less expensive for holders of other currencies, and US 10-year Treasury yields fell to their lowest level in a week, and the Federal Reserve is still widely expected to raise rates. Interest is 75 basis points in November 2022.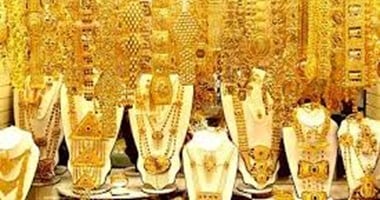 The gold market is awaiting economic data


The focus now shifts to the US GDP data due to be announced tomorrow Thursday, followed by the US core inflation data on Friday, which could provide a clearer picture of the path of the Federal Reserve's hike in interest rates, and attention is focused on the European Central Bank meeting tomorrow Thursday.
Metal prices after the rise of gold


As for other precious metals, silver rose 1.3 percent to $19.59 an ounce, platinum jumped 3.2 percent to $944 an ounce, and palladium rose 1% to $1943.13.