In a new tragedy in Egypt, a young man stabbed his cousin to death with a knife, thinking that she had done a "magic" work for him that prevented him from marrying for 11 years and caused him to be fired from every job he joined.
The crime took place yesterday, Sunday, in the village of Al-Kuraimat in Atfih.
The South Giza Prosecution conducted extensive investigations, as it decided to assign the forensic medicine to an autopsy of the victim's body and to determine the causes of death.
Sporadic stab wounds to the body
Investigations also indicated that a woman received 4 stabs after a verbal altercation and a quarrel with her uncle's son, after which the latter took out a white weapon from the folds of his clothes, and hit her several times in different parts of her body, killing her on the spot, then escaping.
She added that the security services in Giza received a notification from the hospital of the arrival of the body of a woman who had been stabbed by a sharp object.
Immediately, the Atfih Police Station officers moved to the crime scene, and it was then revealed that the accused had fled.
Until it turned out that the victim was the accused's cousin, and there had been disagreements between them for a while, according to the neighbors who confirmed that the killer went to her house, ended her life and left quickly before being caught.
magic and charlatan
During the investigations, the police officers were surprised that the accused surrendered to himself, carrying a white weapon stained with blood, acknowledging that he was behind the killing of the cream lady.
He also began to admit his crime and its motives, as he said that he had been unemployed for nearly 11 years.
He added that he did not succeed in steadfastness at all, and that no marriage project would be completed for him.
He also continued that he suspected that his cousin was behind what was happening to him due to differences between them, stressing that she was deliberately harming him, especially after he learned that she frequented one of the charlatans in the village. .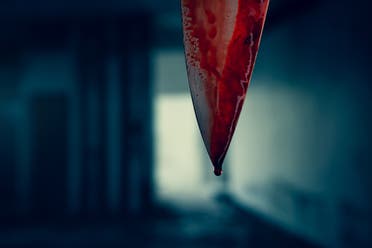 expressive
As soon as she saw her, he insulted her, then a quarrel erupted between them, which he ended by planting the weapon in her body several times.
It is noteworthy that the investigations confirmed that the accused suffers from a psychological crisis that prepared him for the victim to abuse him and work magic on him.
A report was released on the incident and the killer was referred to the Public Prosecution for investigation.