Entertainment
I was not afraid of accepting work with Mohamed Ramadan!
Her selection by the management of the Cairo International Film Festival to be the one to announce the honoring of director Kamela Abu Zekry had a great impact and resonance, from the audience and the honoree herself because of the long relationship that linked them for years through many works. It is also experiencing a state of great artistic recovery at the level of television and cinematic drama as well.
It is the actress Nelly Karim, who revealed, in her interview with Al-Arabiya.net, that she has finished filming the series "Rose and Laila", and is currently filming the movie "Al-Zero", which she expects positive interaction with, in addition to her preparation for a series next Ramadan, despite the great controversy. About her latest series, "Faten Amal Harbi", which was shown during the last Ramadan season.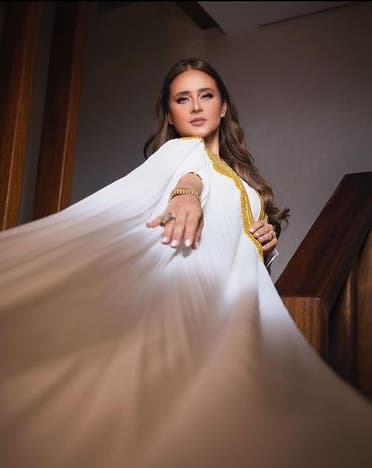 Actress Nelly Karim
* How were you chosen to honor director Kamela Abu Zekry at the Cairo Film Festival?
** The festival management contacted me and I was very happy with my choice to honor my life's friend. On the professional level, we presented many important works together, and on the personal level, she is one of my close friends. Therefore, I was happy to be chosen to carry out this task, and I was more than happy with Kamela's response and attendance at honoring her, as she deserves this honor. I felt proud as I stood on the stage of the Opera House, presenting the "Faten Hamama Award" to Kamela Abu Zekry, as she is a great and important director who influenced Egyptian drama and cinema. Great chemistry between us, which is the secret of the success of the artworks that we presented together.
* Did you recently finish filming "Rose and Laila?" Can we talk about that experience?
** It is the first work that brings me together with the beautiful Yusra, although we are actually friends and we have divergent life relationships, and she enjoys wit and a loving heart, in addition to being a terrible actress. Daily comic events brought us together with photography and behind the scenes. As for the work, it is produced by "mbc" and written by British screenwriter Chris Cole, directed by British director Adrian Shergold, and deals with the story of two women who own a private investigation office. I present the character "Rose", while Yousra presents the character "Laila", and the events of the series take place in a comic framework, in addition to containing a large number of characters and successive rapid events, and it consists of 10 episodes, and it will be ready for display soon on the "Shahid" platform.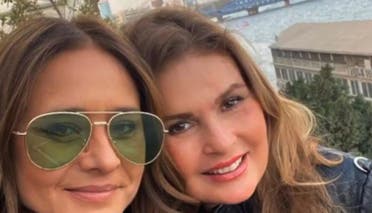 Yousra and Nelly Karim behind the scenes of Rose and Laila series
* Your husband, Hisham Ashour, is participating in the action championship. Did you not hide from the criticism?
** Indeed, it is the first time that we participate in a starring work of art, and I am not afraid of the idea of ​​​​criticism, because he is represented before our marriage took place, and the role befits him in all aspects, and people will see him in a new and different personality that will satisfy them.
* You are returning to the cinema through the movie "A Al Zero" with Mohamed Ramadan, did you not hesitate?
** On the contrary, I was not afraid of accepting work with Ramadan, as I have known him for a long time.. He is a distinguished, polite, and highly moral artist, and he has a diverse audience of different ages, in acting and singing, and it is natural that any well-known, beloved, and popular artist finds a difference. around it. There is no consensus all the time, but the cast has already started filming. The film presents a mixture of drama and comedy, in a different social mold, and I expect positive reactions about it.
* It seems from the works that we are presenting these days that you are trying to escape from the sad deeds?
** Indeed, my work with Yousra and Muhammad Ramadan is a mixture of comedy, excitement, seriousness and drama. I am known for presenting works of art of a special nature, which include attractive and deep content and an integrated story. We offer reality, and life is not limited to tragedies only, nor is it only laughter, fun and humor.
* Are you presenting a Sa'idi character in the coming Ramadan?
** Yes.. It is the first time that I present a Sa'id character, and it will require some preparations for my personality and work, including language training in order to master the Sa'id dialect with one of the dialect correctors, so that we can present a convincing work that respects the mind of the viewer. The work written by Dr. Medhat Al-Adl is unique and different from what we presented together before. The series presents a struggle between religiosity and customs, and when religion conflicts with customs and traditions, we go to customs and forget religion. This is one of the inherited scourges, and the Upper Egypt drama succeeds with people and has a great impact.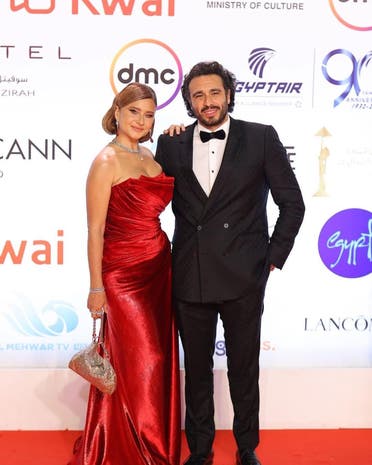 Nelly Karim with her husband Hisham Ashour
*Nelly Karim returns to work with Medhat El-Adl and Mando El-Adl again?
** Yes, and I am happy with this cooperation, so I return to work with Dr. Medhat El-Adl after an absence that lasted for more than 4 years, since they presented together the series "For the Highest Price", in 2017. This work is also the third that brings me together with director Mando El-Adl, after we succeeded together in The series "Faten Amal Harbi", which was shown last Ramadan, and the series "For the Highest Price".
* Don't you feel afraid of presenting new areas, especially as if they are more like an adventure?
** On the contrary, I am not at all afraid of addressing new and different areas of representation. My introduction to this role requires preparations that I used to do in my previous works, despite people's fears, comments, and questions about how I could introduce such a character. I follow what people say, and I care a lot about their opinion. But I care more about my performance, my work, my professional commitment, and the content of the whole story. People unanimously agreed on the character's distance from the nature of her roles, as well as the personality of the Egyptian woman who is crushed in life, as well as her role as a drug addict. Even the series "B 100 Wesh" was a surprise by presenting me with comedy. I am presenting to the public what they do not expect, despite their constant fear because of my intrusion into areas that they think are not suitable for me. But in the end they are surprised by the extent of perfection, and I am also happy with their opinions and praise for my performance.
* Will you do some studying by watching previously presented works on Upper Egypt?
**I am not used to presenting my characters through other backgrounds; Whether watching a complete work or a specific character, so I will not concern myself with watching old works that dealt with the Upper Egypt character. Because as an actress, I must deal with the work from reality, and rely on ordinary people and daily events that revolve around me, and not on works presented by a director and artist in a different way, which may not suit my personality as an artist.