technology
Ice reveals strange mysteries in Siberia.. A lion's carcass dating back thousands of years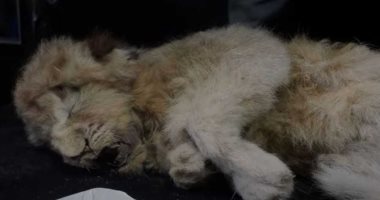 A 28,000-year-old frozen lion body was found in the permafrost of Siberia, which still clearly retains many of its features, according to a Sky News Arabia report.
The researchers said that this type of lions, known as "Sparta", is one of the best-preserved animals of the ice age ever, as the icy environment contributed to the mummification of its teeth, skin and tissues.
The body was found in the Semolyakh River in Russia's Yakutia region in 2018, and another cub, named Boris, was found the year before.
In recent years, people in Siberia have pulled many animal species such as rhinos, wolves and brown bears out of the permafrost, showing that this icy steppe was once home to many large mammals.
If this type of cub was given a chance to grow, experts think its fur may have turned a light gray color to help it camouflage itself in the cold Siberian Arctic.
It is worth noting that, a new scientific study concluded that two-thirds of the world's glaciers are on the way to disappear by the end of the century (2100) in light of the current trends of climate change.
The study, published today in the journal Science, analyzed all 215,000 glaciers in the world.
The study expected that these rivers are melting faster than scientists thought, but how quickly they melt depends on how much the planet is warming, explaining that it is no longer possible to move to save many small glaciers, because it is already too late.