business
Industries with economic and development returns in the industrial backyard of New Alamein x 5 information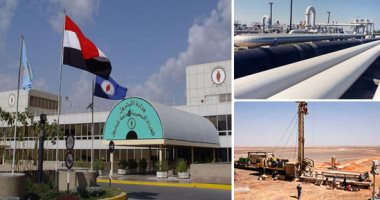 The year 2022 witnessed the launch of the petroleum sector plan to invest in industries with great economic and developmental returns in the industrial hinterland of New Alamein through the projects to be established, including the following..
1- El Alamein Petrochemical Complex.
2- An area for small and medium industries projects based on what the El Alamein Petrochemical Complex will produce.
3- A silicone production complex to bridge the product import gap.
4- A complex for the production of sodium carbonate (Soda Ash), which meets the needs of the Egyptian market for an important substance that is used in many industries.
5- The land for the projects has been allocated, the plan has been prepared, and the necessary procedures for their implementation have been taken forward.
Engineer Tariq Al-Mulla, Minister of Petroleum and Mineral Resources, had confirmed that the petroleum sector doubled its efforts during the year 2022 full of challenges in order to increase production and accelerate the development and modernization of infrastructure and raise its efficiency so that it can face global challenges and their repercussions on energy markets.
He pointed out that the ministry has taken it upon itself to modernize the methods of attracting foreign investments to search for oil and gas in Egypt and follow the best international practices, which reflected positively on attracting new major companies to work in Egypt and strengthening the investments of existing international companies, as these investments are the cornerstone of intensifying research and exploration activities to discover More oil and gas reserves and increased production.
El-Molla pointed out that the implementation of development programs and the application of digital transformation contributed to raising the efficiency of oil and gas industry facilities and supporting their ability to increase production and optimal utilization of resources and infrastructure, which is the key to Egypt's success as a regional center for the circulation and trade of gas and oil.
And he stressed that with the increasing importance of Egypt as a regional center for the circulation and trade of gas and oil in that period that the world is going through, the European Union and neighboring countries are working to enhance cooperation and support economic ties with Egypt in the fields of energy, and in parallel, the ministry has taken upon itself the development and modernization of activities and projects in a way that enhances Egypt's ability to play its regional role in the field of energy.
El-Mulla pointed out that the historical participation of the oil and gas industry in the COP27 Climate Summit in Sharm El-Sheikh for the first time in the history of climate change contributed to changing many concepts and made the oil industry part of global solutions to confront climate change, especially with its commitment to presenting effective initiatives and projects for sustainable development and reducing emissions. .