business
Launching a cycling trip (Africa circumnavigation) sponsored by the Ministry of Tourism and Antiquities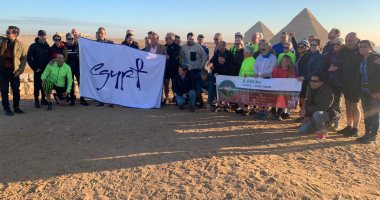 Under the auspices of the Ministry of Tourism and Antiquities, represented by the Egyptian General Authority for Tourism Promotion, today, Saturday, a cycling trip (Africa Tour) was launched, organized by a team Ward arrives In cooperation with the Gate Company for Tourism Development, the journey started from in front of the Giza Pyramids to take its course through the governorates of Cairo, Giza, Suez, the Red Sea, Qena, Luxor and Aswan until the Sudanese border crossing through the Wadi Halfa port..
The Tour of Africa trip lasts three months, and 50 cyclists of different ages and multiple nationalities, including Egypt, Canada, America, Brazil, India, South Africa and England, participate in it..
Iman Abdel Rahman, Director General of the General Department of Tourism Awareness at the Egyptian General Authority for Tourism Promotion, explained that the authority's sponsorship of this trip comes within the framework of the authority's strategy to shed light on the different tourism patterns, including safari tourism, and the launch of this event from the Giza pyramids to the rest of Africa confirms Egypt's leadership and embrace of the brown continent and an affirmation of Egypt's soft power, in addition to shedding light on the readiness of the Egyptian tourist destination to receive various sporting events and provide tourism services for the elderly..
She added that this event is a combination of a number of diverse tourism products in the Egyptian destination, such as sports tourism, safari tourism and camps, cultural tourism and recreation tourism, as the trip passes through a number of important archaeological points such as the pyramids of Giza, Luxor, Aswan, Qena, Abu Simbel, and other areas. tourism in Suez, Ain Sukhna and El Gouna.
The event is covered by local and international media.