business
Mahmoud Mohieldin: Egypt's hosting of the Conference of Parties to the Climate Change Convention to increase awareness and participation

Indian Economist Montic Singh: COP 27 is being held in exceptional circumstances
Dr. Mahmoud Mohieldin, Climate Pioneer for the Egyptian Presidency of the Conference of Parties to the United Nations Climate Change Conference COP27 and the United Nations Special Envoy for Financing the 2030 Agenda for Sustainable Development, stressed that one of the most important benefits of Egypt's hosting of the 27th Conference of Parties lies in raising awareness among the Egyptian community and motivating it to participate in the conference. Dealing with climate issues.
This came during his speech in a lecture entitled "Financing the Transition to a Green Economy in Developing Countries", organized by the Institute of National Planning, with the participation of Dr. Hala Al-Saeed, Minister of Planning and Economic Development, and Montik Singh Ahluwalia, an Indian economist.
Mohieldin said that the climate conference will be held for only two weeks, but the resulting impact is what will remain, expressing his confidence that the conference will lead to a transformation in the ideas of societies and a change in the policies of governments, organizations and actors in a way that contributes to achieving climate goals.
He stated that think tanks and the media should cooperate to explain climate issues to society and simplify scientific terminology in a way that enhances awareness of the seriousness of the climate change crisis, pointing to recent international statistics that reported that 49 percent of people believe that climate change does not represent a major crisis and does not need immediate measures to deal with it. .
He added that it is important to recognize the impact of the climate crisis on various climatic conditions such as public health and economic growth, noting that COP27 calls for a comprehensive approach linking climate action and achieving other sustainable development goals.
Mohieldin called on Egyptian research centers and universities to continue organizing lectures and seminars related to climate action in cooperation with active international institutions, while involving more researchers and students in these events, explaining that Egypt's presidency of the conference begins on the first day of its holding, which requires intensifying activities related to climate issues during next period.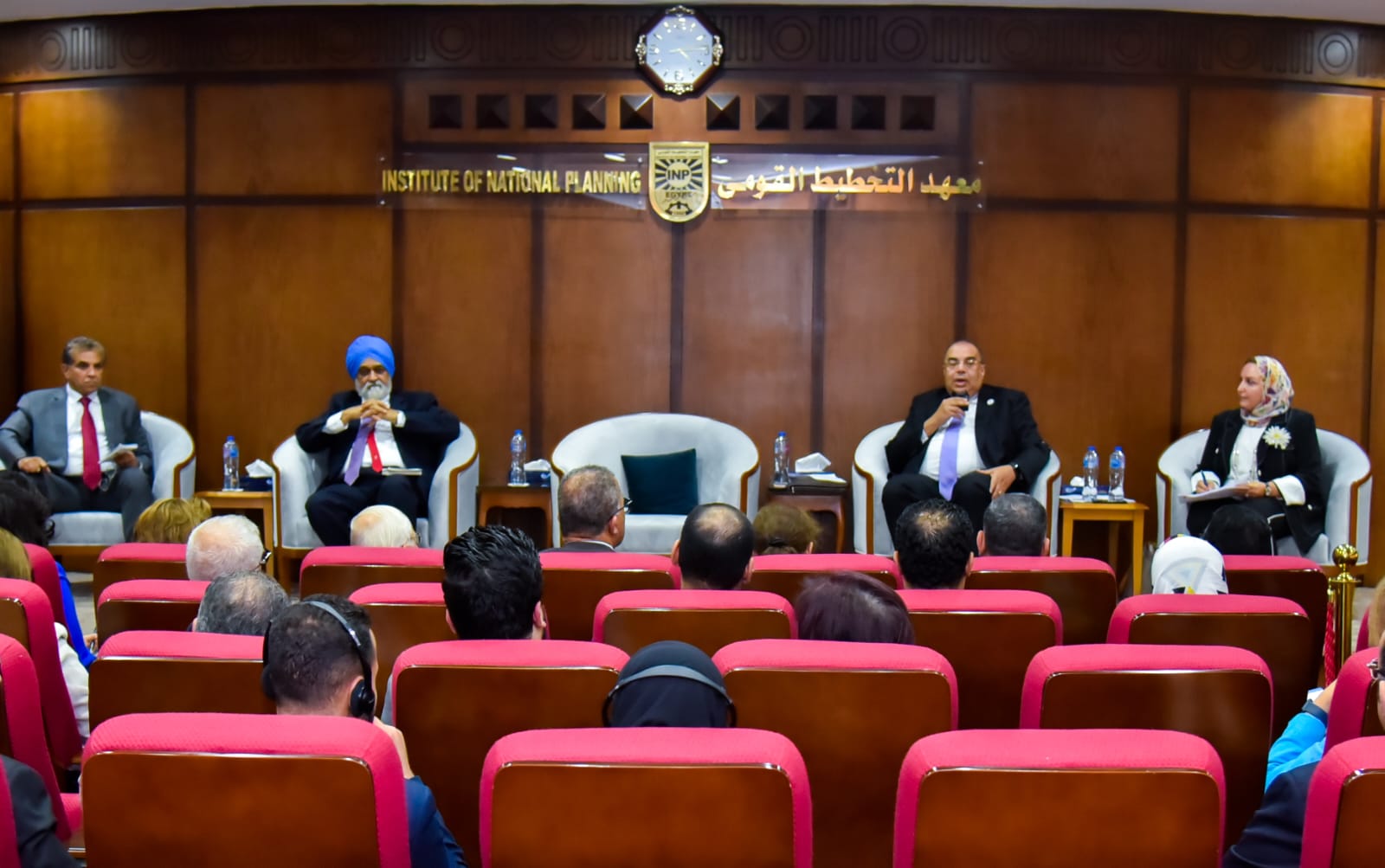 For his part, Indian economist Montek Singh Ahluwalia confirmed that the 27th COP is being held in exceptional circumstances in light of the global crises caused by the Corona pandemic and the war in Ukraine, as well as political and economic tensions between the United States and China and other geopolitical crises.
Ahluwalia said that despite these crises, the international community is strongly required to take difficult decisions and steps to confront climate change, which is the message that the Sharm el-Sheikh conference is expected to send to the world, explaining that the conference is required to invite everyone to develop practical plans and time frames for implementing climate action.
He explained that financing climate action in developing countries under the current circumstances requires a mixture of international and domestic financing, a combination of public and private financing, as well as the contribution of multilateral development banks to financing and cooperation with governments to improve their policies in a way that enhances public financing for climate action and encourages the private sector to participate. in financing and implementing climate projects.