business
Maintenance work.. "Town Gas" for residents of Al-Mansheya Street in Al-Haram: Do not be disturbed by the smell of gas
The Egyptian Company for Natural Gas Distribution to Cities (Town Gas), one of the companies in the petroleum sector, announced on its Facebook page the maintenance work of Al-Mansheya Street in Al-Haram, starting from 8:00 pm on Tuesday.
The company calls on customers not to be disturbed when they feel the smell of gas, and the company confirms that these works will be carried out with the highest standards of quality and safety to ensure the safety of customers. Accordingly, it must be noted to reassure customers and that gas will not be cut off from customers.
In the event of any inquiries, please contact the company's emergency services through the landline and 24 hours a day at the short number.
It is mentioned that during the year 2022 and the continuation of the efforts of the petroleum sector in implementing the national project to deliver natural gas to homes in line with the state's policy to create a kind of social justice, especially for the governorates and regions most in need, and to reduce citizens' troubles in obtaining butane gas cylinders, the use of natural gas has been expanded as a substitute for butane, according to for the following: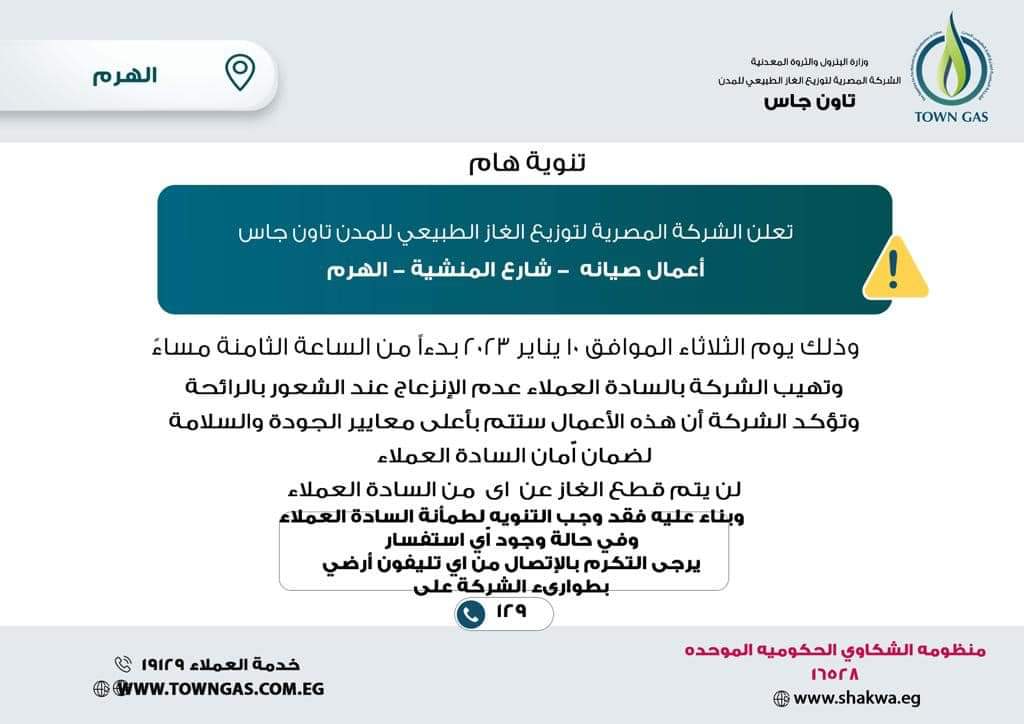 Description of Town Jas
For the fourth year in a row, gas has been delivered to between 1.1-1.2 million housing units annually, equivalent to about 19 million butane gas cylinders, which were replaced and saved as a result of gas delivery during the year, which led to a reduction in the subsidies directed to butane, bringing the total number of housing units to which gas was connected. To about 14 million housing units at the level of the governorates of the Republic since the start of activity until the end of December 2022, and natural gas was delivered to 200 new areas that natural gas enters for the first time during 2022, and natural gas was delivered to 1825 commercial consumers and 124 factories.