Today, Dr. Reda Hegazy, Minister of Education and Technical Education, and Major General Muhammad Al-Sharif, Governor of Alexandria, held a meeting with the education leaders in the governorate at the governorate's general office, in the presence of a number of leaders of the ministry and the governorate.
In the beginning, the Governor of Alexandria, in his name and that of the leaders of Alexandria, welcomed the Minister on his first visit to the governorate after assuming the education portfolio.
He indicated that he discussed with Dr. Reda Hegazy several files and topics within the framework of cooperation between the ministry and the governorate, to develop solutions to challenges and obstacles to improve the educational system in Alexandria.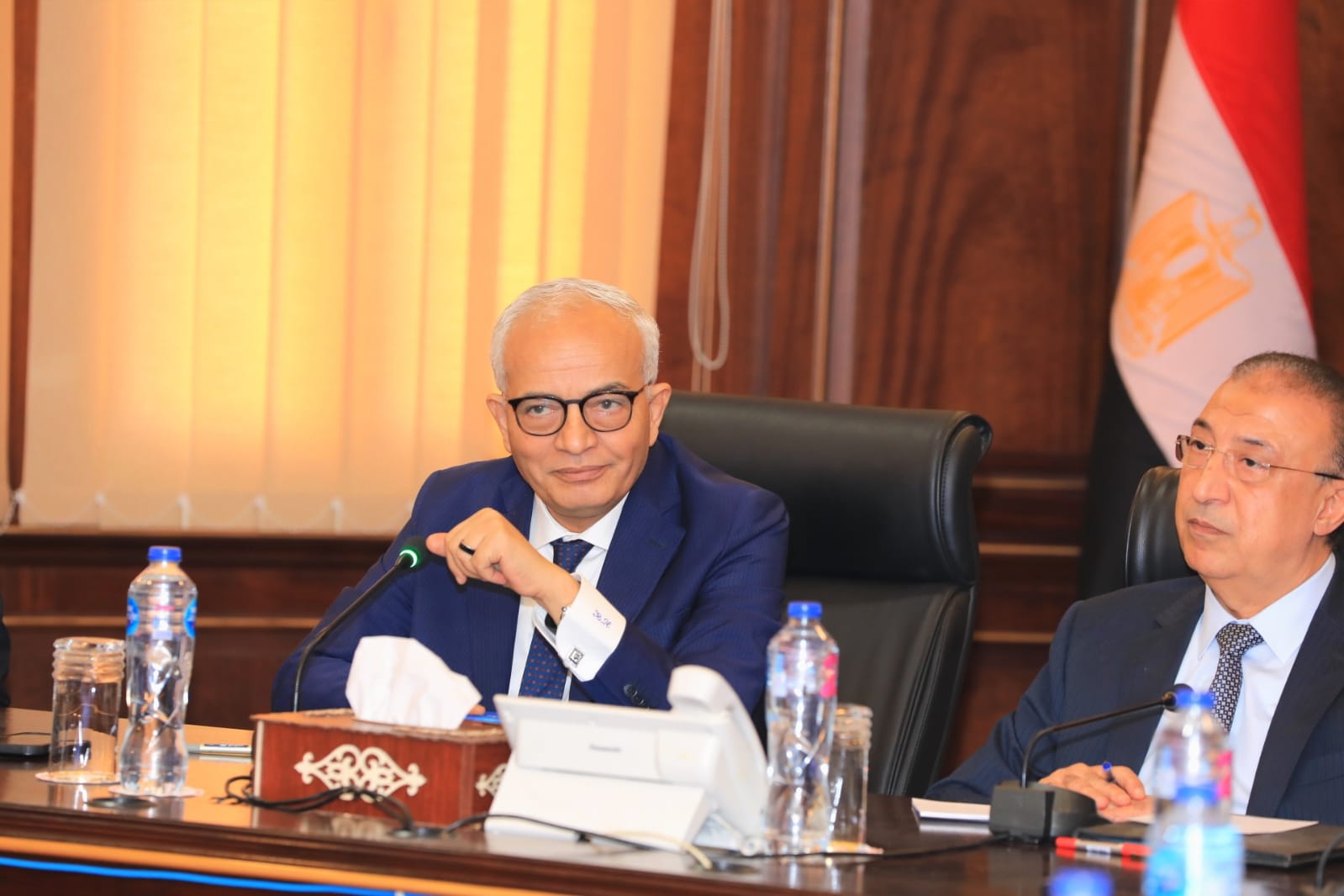 Minister of Education during the conference
Al-Sharif stressed that the governorate is keen to provide full support to the educational system in light of the state's vision for sustainable development and Egypt's Vision 2030.
The Minister was keen to follow up the preparations of the educational departments in the governorate for the beginning of the next academic year 2022/2023, directing the leaders to overcome all difficulties in front of our students.
The minister stressed that there is no development without upgrading the teacher's performance and training, which is something we are working on by preparing training bags in cooperation with the Professional Academy for Teachers, saying: "The teacher is the pillar of the tent in the education development process."
He indicated the ministry's interest in integrating technology into the educational process by making use of school channels and educational platforms and allocating viewing periods in the classroom, noting that this mechanism is adopted in successful educational systems.
The Minister directed the leaders of educational departments to work to provide comfort for our students and to provide all tools to provide the best teaching methods for the benefit of our students and motivate them to go to schools and work to return the school to its strong role in society.
With regard to the implementation of the sports day in schools, Dr. Reda Hegazy explained that the idea will be implemented in at least 25% of schools in the departments as a first stage and will be applied gradually throughout the academic year to the rest of the schools in each department.
The minister directed the need to pay attention to the environment and climate as a global issue, by paying attention to afforestation and planting school roofs, coinciding with Egypt's hosting of the COP 27 climate summit next November.
This came in the presence of Dr. Ahmed Daher, Deputy Minister for Technological Development, Dr. Ahmed Gamal, Deputy Governor, leaders of the Ministry of Education, directors of Alexandria and Beheira governorates, a group of ministry leaders, and directors of educational departments in Alexandria.