Entertainment
Mohamed Ragab reveals the details of his return to cinema after an absence of 3 years
The artist Mohamed Ragab's new series, "Mishwar Al-Wensh", managed to garner strong reactions since the presentation of its first episodes, and it is the series that brings him back to TV drama after an absence of two years, despite his appearance last year as a guest of honor in the series "The Choice". This new series witnesses the third consecutive TV collaboration between Mohamed Ragab, Ismail Farouk and Ahmed Abdel Fattah, after they presented together the series "The Big Brother" and "Darbet Moallem", which achieved great public success and also won critical acclaim. In his interview with Al-Arabiya.net, Muhammad Ragab confirmed that the recent work also achieved great success, and that he is receiving praise from his fans directly through social networking sites, and he also revealed that he will present a cinematic work soon.
Tell us about the reactions to the series "Mishwar El Winch"
The reactions were very strong. After every episode of the series, the level of communication with the audience rises, and I receive many direct reactions from the audience daily, in a way that made all of us as the series team happy. Also, the theme of the work is artistic-commercial, so it starts with excitement and then turns into comedy, until we get to what will happen at the end of the work, and I do not want to burn the details of the work, but I am very enjoying the reactions in Egypt and the Arab world, especially the Gulf.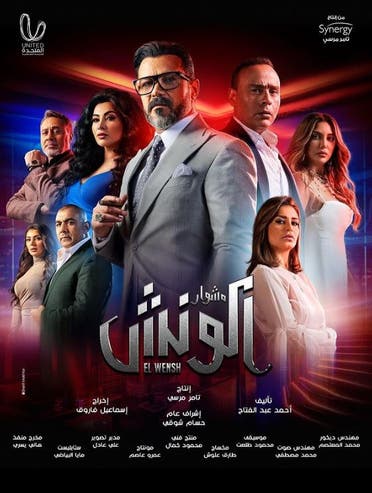 Avish series Mishwar El Winch
This is not the first collaboration that brings you together with both screenwriter Ahmed Abdel Fattah and director Ismail Farouk, so what do you tell us about the subject?
Indeed, this is the third experience with Mr. Ahmed Abdel Fattah. We are friends and we have had successful experiences together before. It is also my third experience with Professor Ismail Farouk. They are two of my friends and I cherish them and their talent. We have a special chemistry and we present new works.
Tell us about the behind-the-scenes work of the series "Al-Wensh"
The scenes of the work were beautiful and full of happiness, because all the work team considered them my brothers and friends, even if there was a group of them I worked with for the first time, including the Lebanese artist Dana Halabi. As for Merihan Hussein, this is our third experience together. We worked together a lot, as she is a talented star and her blood is very light, and there is great chemistry between us at work. Also, Mahmoud Abdel-Moghni is a friend of my life. We have worked together since the movie "My Angel of Alexandria", and since then we have not worked together, so I was happy to return to work with him. As for Menna Fadali, she is also one of my friends whom I cherish.. In fact, they are all very proud of them and their presence with me in one work. I am happy to work with them. I also thank producer Tamer Morsi and Hossam Shawky for this new opportunity with them.
Is your character in the series "new" and how different is it from your real self?
She is indeed a new character that I have not introduced before, but as for the similarities between her and me, I cannot say much about him. I am one of the people who likes to put a smile on the faces of those around me in my work and in my life, and I always try to mix seriousness and humor so that things are simpler and easier for everyone.
It is said that your son Youssef was supposed to be among the participants in the action championship..so what happened?
Indeed, but he had a study at the same time, so he was unable to do so, so we postponed the idea, especially since he lives in Saudi Arabia. He now follows up on work every day, and we talk after each episode to tell me my opinion about it. Our relationship is "more friends than we are his son and his father." He is light-blooded like me, but he is very naughty.. The truth is that I take his opinion on everything in my work, because he loves him very much.
Tell us about the work and its details
This series is "Social" and it consists of 45 episodes. It sheds light on the many marital relationships and how the relationship is managed within each family. The events revolve around the main heroes of the work, Hassan and Camelia, as they are an incompatible couple.. Hassan is a self-made businessman working in the field of sanitary ware, who started his life without the help of anyone and obtained a "Sanayeh" diploma. While his wife, Camelia, is a beautiful and famous plastic surgeon, and she criticizes his actions, the way he speaks, and his clothes, and feels that she deserves a better husband than him. Camellia was forced to marry Hassan because he saved her from the state of poverty in which she lived, as her father was working for him, while she was still a medical student, so Hassan helped her with her education expenses, and he was her means of moving to a better financial level. After their marriage, they had a baby girl, and the relationship between them became oscillating.
Are you going back to the cinema soon?
I am currently preparing a movie with Ahmed Abdel Fattah and Ismail Farouk, which will be a big surprise, since I have not participated in a movie for 3 years. At first I focused on cinema, until I found out that I had moved away from TV drama since 2008 when I presented "Adham El Sharkawy", which at the time garnered great reactions. At that time, I stopped drama and got busy with cinema, then returned to TV drama again in 2018, through the series "Question Mark", "Big Brother" and "Teacher Strike", all of which achieved great success. I hope that the cinematic project that will bring me together with Ahmed and Ismail will be liked by the audience, but I will not reveal any details about it until the appropriate time.