technology
Monitoring the winter heat wave in Europe from space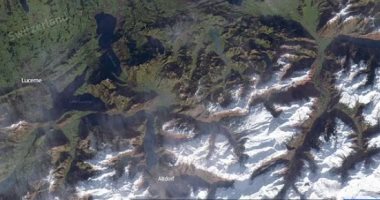 New satellite images revealed the impact of the winter heat wave in Europe in conjunction with the winter ski season on the continent, as an image published by the European Union's Copernicus program shows a clear lack of snow surrounding the Swiss city of Altdorf near ski resorts.
According to the British Daily Mail website, the temperature reached 66.5 degrees Fahrenheit (19.2 degrees Celsius) on New Year's Day and did not fall below 60.9 degrees Fahrenheit (16.1 degrees Celsius) during the night, breaking the previous record set in 1864. .
The TikTok clips also reveal the disappointing snow cover of various ski areas in the Alps, with stark patches of ground exposed by melting snow. The new satellite image was captured by Sentinel 2, one of the Earth-observing satellites that make up the Copernicus programme.
The year 2023 began with a "historic heat wave" affecting Europe, with many countries observing the highest temperatures on record on January 1, possibly due to human-caused climate change.
"Hundreds of temperature records were broken, and summer-like temperatures prevailed in many cities across the continent," says Copernicus on his website.
Copernicus open data and services are essential for monitoring the effects of climate change and temperature extremes on alpine environments.
European countries, including Denmark, the Netherlands, Poland and the Czech Republic, had the warmest January day on record on New Year's Day.