business
Planning concludes the "Startup Journalism" workshop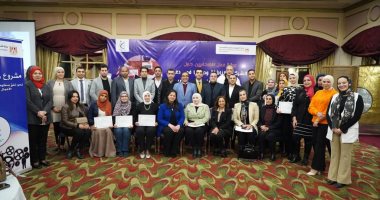 The Ministry of Planning and Economic Development concluded the two-day training workshop "Startup Journalism" organized by the Rowad 2030 project for a number of journalists and media professionals on startup journalism and its role in supporting economic development in Egypt.
The second day of the workshop included a number of sessions attended by a group of specialists in the field of entrepreneurship and media. The first session, presented by Diana the Hyena, the founder and executive producer of the "Forsa" program and "Here the Youth" as one of the entrepreneurs' competitions, dealt with how to create a TV program for companies. startups, stressing that the training workshop includes a number of specialists in the field of entrepreneurship, which is in line with its objective to raise media awareness of the idea and nature of startups.
The second session was about the growth mechanisms of startups, which was presented by Dr. Ayman Ismail, Professor of Entrepreneurship at the American University in Cairo. The third session also included a review of how to collect information and data for startups and methods of analyzing indicators, which was presented by Tariq Al-Qadi, founder of the Techny Summit for Technology and Entrepreneurship. , who praised the idea of ​​the workshop, which will reflect positively on what the media presents about startups.
In the fourth session, Nada Helmy, Director of Nahdet Misr Incubators, reviewed how the content maker exploits social networking sites, and how to benefit from them in delivering specific content to the public, stressing that the timing of the training workshop coincides with the significant growth witnessed by startups.
It also dealt with the fifth session on the second day of the workshop, which was presented – via video conference – by Mohamed Ezzat, Executive Director and one of the founders of Bosta Company; Company success story.
At the end of the day, Dr. Ghada Khalil, Director of the Rowad 2030 Project, distributed certificates of attending the program to the participants, as she emphasized that the media is the link with the public, pointing to the importance of the role of the press and media in developing awareness of various issues.