lastests post
Shocking confessions of the perpetrators of the scandalous act on a bridge in Egypt
New details were revealed in the scandalous video incident, which shook Egypt during the past hours, which included immoral scenes between a young man and a girl on a bridge in front of passers-by in broad daylight.
Confessions of a young man
During their statements, the young man and the girl admitted that they had been living a burning love story for years, and their emotional encounters were numerous, away from the eyes of the family, during which they exchanged love, but they fell into the forbidden this time, and they practiced the scandalous act on the bridge without knowing the legal consequences of that.
Investigations revealed that the girl, called "NK", was born in 2004, at the age of 19, and that the young man, called "Y M", was born in 2005 and is 18 years old, a year younger than the girl, and that they are still in secondary school and reside in the Sharabia area north of Cairo. .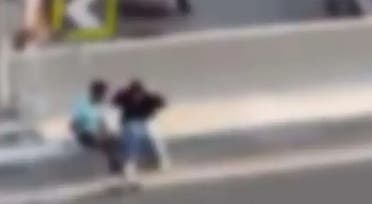 From the scandalous act video
A camera caught them
They confirmed that they decided to go out for a walk and walk on the coastal bridge near their area of ​​residence, and they made love until they were caught by a phone camera of a resident of the real estate located next to the bridge and overlooking it.
For its part, the Public Prosecution Office ordered the families of the young man and girl to be summoned to find out their real ages, in preparation for their deportation to the Juvenile Prosecution Office.
The video, which was widely circulated, sparked a sensation and a storm of anger because of the young men and women's audacity to practice this immoral act in broad daylight and without fear or attempt to cover up or modesty.
The security services were able to identify the young man and the girl, arrested them and charged them with committing an indecent act on the public road.