technology
Study: High rates of playing video games among the elderly over 65 years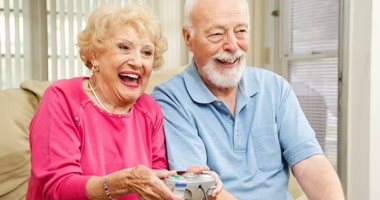 A British study shows that 85% of people over the age of 65 play video games at least once a week, while 36% of them play every day, and many of these gamers say they picked up the console for the first time during the COVID-19 lockdowns. They now use it regularly to keep their minds active.
According to the British newspaper "Daily Mail", studies have shown that games can enhance the mental abilities of the elderly and prevent dementia.
The new research revealed that 42% of older gamers do so to connect and spend time with family members of all ages.
While 51% like to play alone, 42% enjoy playing with or against their children or grandchildren, and 44% with their partners.
This is particularly the case during the winter when many older people find it more difficult to leave the house and meet face to face, but they are not just motivated by their relatives, with a quarter revealing they play to keep their minds occupied.
Certain brain training games have been shown to help seniors perform daily tasks better and improve their driving.
More than a fifth say a session on PlayStation or Xbox helps improve their mood, while 23% find it 'calming' as it takes their mind off the busy world.
The research was carried out on 1,000 UK adults aged 65 and over who have played or are interested in playing computer or video games.
Nearly a fifth of gamers surveyed said they picked up the hobby during the pandemic, and haven't wanted to stop since.