business
The Deputy Minister of Tourism discussed with the Nepalese ambassador increasing the number of her country's tourists to Egypt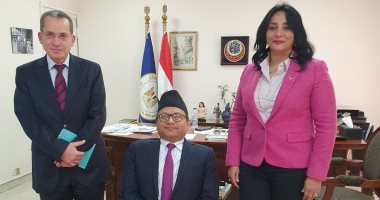 Ghada Shalaby, Deputy Minister of Tourism and Antiquities for Tourism Affairs, received Sushil Lamsal, Ambassador of Nepal in Cairo, to discuss ways to enhance cooperation between the two countries in the field of tourism, in the presence of Mohamed Salama, Head of the Central Administration of Tourist Offices at the Egyptian General Authority for Tourism Promotion, and Deepak Gemini, Second Secretary at the Nepalese Embassy in Cairo.
During the meeting, the Deputy Minister stressed the good relations between Egypt and Nepal and the desire of the Egyptian side to increase the tourist movement coming from Nepal to the Egyptian tourist destination, and the possibility of holding a virtual meeting via video conference for tour operators and tourism companies in Nepal and their counterparts in Egypt was discussed. To exchange visions and proposals aimed at increasing tourism between the two countries, in addition to inviting some bloggers and influencers from Nepal to visit Egypt to convey their tourism experience in the Egyptian tourist destination to their followers through their pages on social media.
For his part, the Nepalese ambassador praised Egypt's organization of the 27th Conference of the Parties to the United Nations Convention on Climate Change "COP 27", which was hosted by the city of Sharm El-Sheikh last November, referring to his visit to monuments and tourist places in Luxor and Aswan, praising the interest of the Egyptian state in facilitated tourism and working to make museums available. And archaeological sites for people of determination, which contribute to improving their tourism experience during the visit.