The Egyptian archaeological mission of the Faculty of Archeology, Cairo University, headed by Dr. Ola El-Ajezy, succeeded in discovering a pink granite sarcophagus of the name "Ptah-im-Wea", a senior statesman, who had important administrative titles during the reign of King Ramses II. During the excavations that the mission is conducting in the Saqqara antiquities area south of the ascending corridor of the pyramid of King Unas during its 2021-2022 work season.
Dr. Mustafa Waziri, Secretary-General of the Supreme Council of Antiquities, explained that the mission had succeeded in the previous excavation season in excavating the private tomb of Ptah-M-Wia, and with the continuation of excavations during the current season, the mission was able to find a granite stone coffin inside the cemetery. Pink, covered with texts that mention the name of its owner Ptah-em-ya and scenes representing the sons of the god Horus accompanied by calls to protect the deceased. The god Osiris and the "Tet" of the goddess Isis.
Dr. Mustafa Waziri stressed that the importance of this discovery is due to the important positions held by the owner of the sarcophagus related to the management of the funerary temple of King Ramses II in Thebes, including the "royal scribe, the chief supervisor of livestock and the head of the treasury in the temple of King Ramses in the possessions of Amun and the person responsible for the divine offerings to all the gods." Upper and Lower Egypt"
Dr. Ola Al-Ajezi, head of the archaeological moth, indicated that the sarcophagus was found in the main burial chamber inside the cemetery, and that preliminary studies proved that the lid of the coffin was broken, indicating that the cemetery had previously been opened in later ages for burial, and subjected to theft, as the coffin was left with only traces of resin produced Mummification, the broken part of the lid was found in the corner of the room near the coffin, and the moth was able to restore it and return it to its original position.
Dr. Ola Al-Ajezi talked about the excavation work, noting that the cemetery contains a burial well that was found in the middle of the columns hall of the cemetery. The western side leads to a sand-dammed hall of 4.20 dimensions. 4.50 AD, and when this hall was cleaned and sand was removed, two other rooms appeared, one from the western side and the other from the southern side, and they were empty of sand and no archaeological finds were found in them.
She added that during the cleaning of this hall, an opening was found on the northern side of the floor, with a curved staircase leading to the main burial chamber in which the sarcophagus of Ptah-M-Wia was found.
Pink granite sarcophagus 2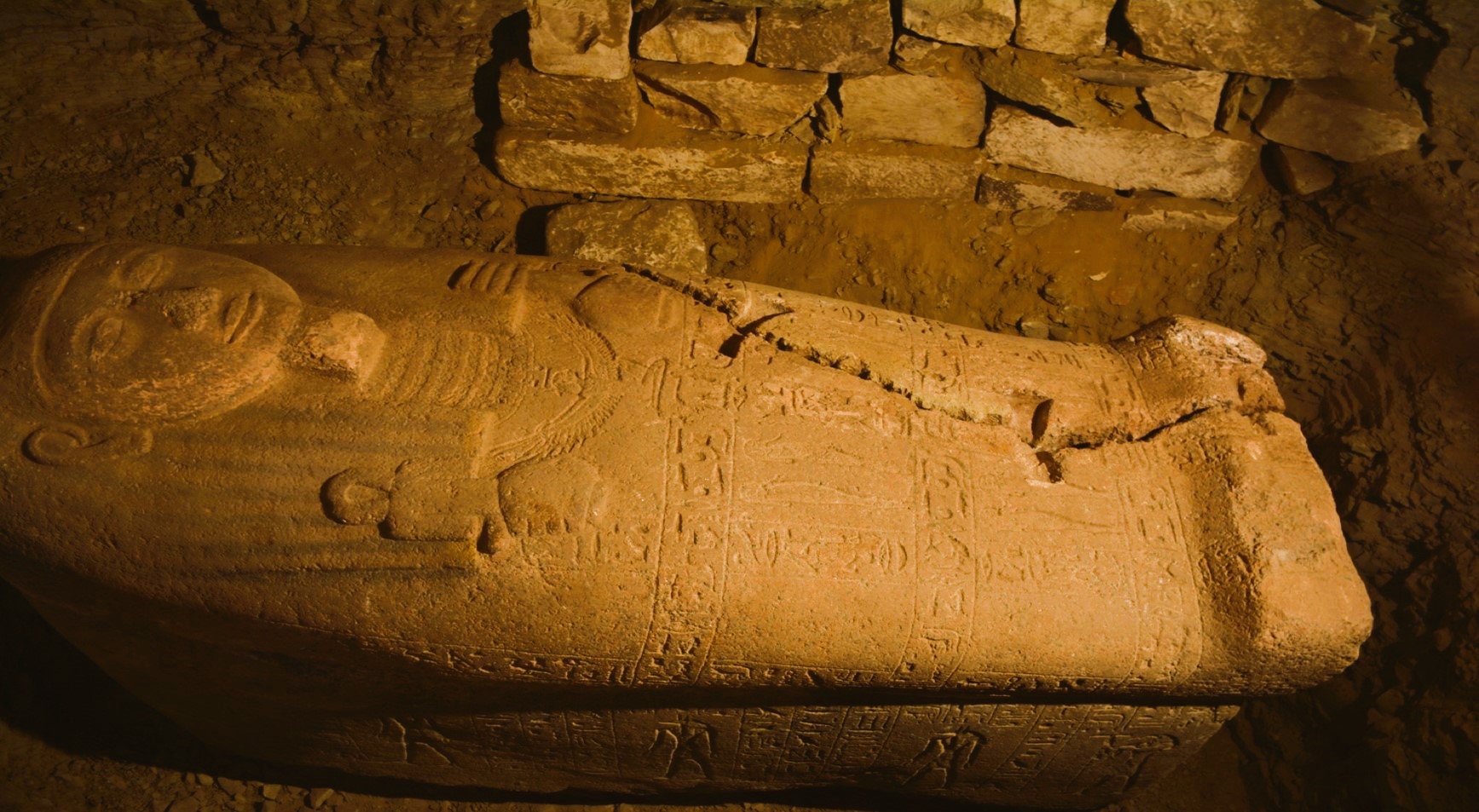 Pink granite coffin