sport
The Egyptian League standings after Al-Ahly won and Zamalek tied in the 12th round of the competition
Keep the club's first team Al-Ahly At the top of the Egyptian Premier League standings table, after its score rose to 30 points, 5 points ahead of traditional rivals Zamalek, who finished in second place.
And beat the club Al-Ahly It defeated its host Enppi with two goals without a response, in the match that was held at Al-Jabal Al-Akhdar Stadium, while Zamalek tied with its guest Al-Dakhiliyah with one goal for each team, in the match that took place at Cairo Stadium.
Tomorrow, Saturday, the competitions of the twelfth round of the Premier League season 2022-2023 will be completed, and the fans will have a date with many summit matches and excitement in this week of the tournament.
Zamalek is the title holder of the last edition of the Egyptian League 2021-2022, while Pyramids finished runners-up for the first time in its history, and Al-Ahly came in third place.
Al-Ahly and Zamalek participate in the Champions League, and Pyramids and Future in the Confederation, and Zamalek crowned the Egyptian League title in the 2021-2022 season, while the Egyptian Cup competitions have not yet ended, as the quartet Al-Ahly, Zamalek, Smouha and Pyramids advanced to the semi-finals of the tournament.
The 64th edition of the Egyptian Premier League competitions started on October 18, 2022, which was its first edition in 1948, and the tournament is considered one of the best ever in the Middle East and Africa.
Al-Ahly is the historical champion of the Egyptian League after achieving the title 42 times, while Zamalek is the second most club to win the championship, with a total of 14 times, and Ismaily comes in third place, and also with a large difference from the runner-up, after winning the competition throughout its history on only three occasions.
Zamalek won the title in the last two seasons, to continue its control over the image of local titles in the past few seasons, while Pyramids ranked second in the 2021-22 season, beating Al-Ahly third.
Egyptian league standings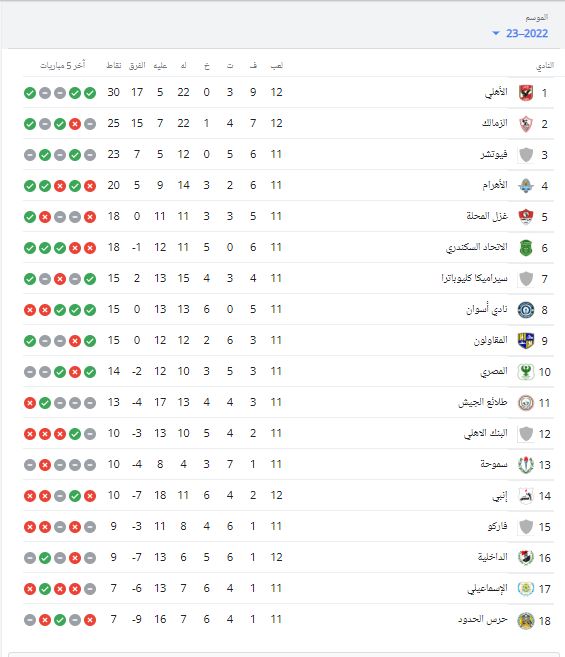 The channel that broadcasts the Egyptian league matches
Ontime Sports broadcasts the Egyptian League matches, in the presence of an analytical studio that includes a group of Egyptian football stars.