business
The head of the transit agency leads campaigns to remove building and occupancy violations in the city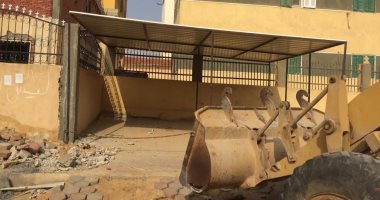 Engineer Abdel Raouf Al-Ghaiti, head of the Obour City Authority, led security campaigns to remove occupancy, encroachments and building violations in the city, and stressed the need not to tolerate any building violations, strike with an iron fist against violators, and take all legal measures against them.
Eng. Abdel Raouf Al-Ghaity confirmed that the decisions to close, wax and remove works and correct the conditions of violations were implemented under the supervision of the Closing and Removal Committee and the Development and Security Departments of the Agency, with the assistance of the Construction Police and the Utilities Police.
He explained that the campaign resulted in the immediate removal of violating buildings in plot No. (39,000) Orabi farms., pointing out that the works related to plot No. (9) block (11002) in the 800m area in the first district were stopped, and the seized tools and tasks were kept at the headquarters of the agency.
The decision to close and withdraw the electricity meter in Plot No. (7) Block (14052) in the Sixth District was also implemented in order to exploit the roof rooms as a residential building. He pointed out that a night occupation campaign was formed under the supervision of the Neighborhoods and Security Departments with the assistance of the Utilities Police. The campaign targeted all axes, main roads, the vicinity of stations and mosques. And the major squares in the city, in the interest of the apparatus to eliminate all phenomena of randomness and reduce the phenomenon of street vendors who prey on the streets and sidewalks and cause obstruction to the movement of cars and citizens and disturb the civilized appearance of the city.