technology
The largest aircraft in the world breaks a record in a flight test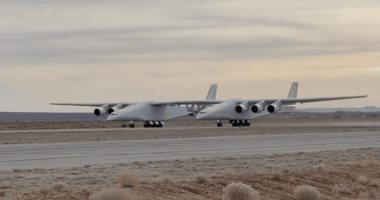 The world's largest aircraft, the Stratolaunch, completed a record-breaking test flight, flying for 6 hours over California's Mojave Desert, according to a Sky News Arabia report.
What do you know about "Rock"?
• The wingspan of the giant "Rock" plane is 117 meters, which is longer than an American football field.
• It has 6 Boeing 747 engines.
• Strange in shape, as it has two structures, and its maximum speed during flight is 340 kilometers per hour.
• It can fly at an altitude of up to 5182 meters.
• Capable of carrying loads of up to 220 tons.
• The aircraft is being tested to be used as a launch pad for hypersonic systems
The new experience
• The test flight that took off from Mojave Aeronautics and Space Administration in California is the second that the Talon A hypersonic test vehicle has been carried from Startolunch.
• During the last test, the StartoLaunch team performed "maneuvers and sequence calls" for its first-ever detachment test.
• The company hopes to conduct the first Drop Tests later this year.
Eventually, Startolaunch hopes to use the superjumbo to provide "convenient, affordable and routine" access to space, similar to the method used by Virgin Orbit.
What did the CEO say?
Stratolaunch CEO Zachary Crevor said:
• "Our amazing team continues to make progress on the testing schedule, and through their hard work, we are closer than ever to safe separation, hypersonic flight tests."
• "We are excited about what's to come this year, as we offer hypersonic flight test service online to our customers and the nation," according to the British newspaper "The Independent".