business
The Minister of Commerce is discussing with members of the Chamber of Textile Industries the development of the sector to increase production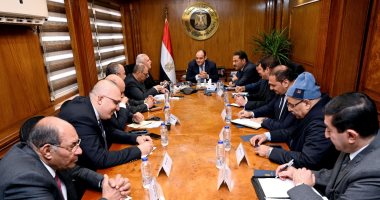 Engineer Ahmed Samir, Minister of Trade and Industry, held an extensive meeting with members of the Textile Industries Chamber of the Federation of Egyptian Industries, headed by Mohamed El-Morshedy. Ways to find urgent solutions to it in cooperation with the various ministries and concerned authorities.
The meeting was attended by Major General Ehab Amin, Assistant Minister for Technical Affairs, Ali Khuzaie, Advisor to the Minister for Institutional Communication and Parliamentary Affairs, Ahmed Reda, Assistant Minister for Industry Affairs and Supervisor of Technology and Industrial Innovation Centers, and Dr. Mohamed Labib, Assistant Minister for Trade Policies.
The minister said that the spinning and weaving industry is one of the main industrial sectors in the national economy, which contributes greatly to meeting the needs of the local market and exporting to regional and global markets, stressing the ministry's keenness to provide all aspects of support and assistance to the spinning and weaving sector, which is one of the labor-intensive sectors, in addition to being one of Sectors that achieved significant rates of increase during the past year, despite the global economic conditions and repercussions.
For his part, Mohamed El-Morshedy, head of the Chamber of Textile Industries in the Federation of Industries, explained that the textile industries represent one of the most important productive sectors in the national economy system, and it also includes a number of major industries that provide the needs of the ready-made garment industry from raw materials.
He pointed out that the sector faces a number of challenges that require the solidarity of all concerned parties to find urgent solutions to them, in a way that contributes to the continuation of production operations to meet the needs of the local market, export to foreign markets, and maintain operating rates.
In turn, the members of the Chamber demanded the importance of expanding the establishment of foreign exhibitions for spinning and weaving products, in a way that contributes to increasing Egyptian exports to global markets, and studying the trend towards the production of industrial fibers and polyester, with the aim of providing the needs of the spinning and weaving industry from these inputs, in addition to the importance of activating the law of preferring the local product in government tenders.