business
The Minister of Commerce is discussing with representatives of the World Bank Group the strategy of developing the industry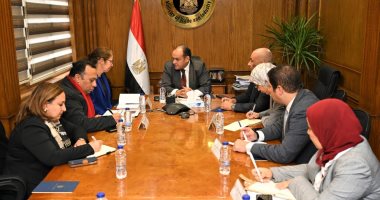 Engineer Ahmed Samir, Minister of Trade and Industry, held an extensive meeting with representatives of the World Bank Group, headed by Marina Wess, Regional Director for Egypt, Yemen and Djibouti at the Bank, to discuss the general frameworks for the national strategy for the development of Egyptian industry, in which the Bank participates in its preparation. The meeting was attended by the Minister, Commercial Commissioner, Amr Hazaa, Advisor to the Minister for Development Projects. And Ahmed Reda, Assistant Minister for Industry Affairs and Supervisor of Technology and Industrial Innovation Centers.
The minister said that the meeting reviewed the axes of the main strategy, which includes deepening local industrialization, developing exports to various foreign markets, especially those of African countries, in addition to increasing the contribution of the industrial sector to the gross domestic product and increasing the proportion of industrial labor out of the total Egyptian labor force.
Samir explained that the ministry aims through this strategy to be sustainable, flexible, and capable of dealing with the rapid global changes and laying out broad lines for the advancement of the national industry, similar to the experiences of industrialized countries similar to the Egyptian case, which achieved leaps in a few years, indicating that the strategy also aims to promote the Egyptian industry and build A mental image and a distinct brand for it in the mind of the consumer in various countries, and work to exploit the export opportunities available to the local product.
The minister added that the ministry had previously launched a number of sectoral strategies, which will also be used in developing this strategy, in addition to the assistance in developing and implementing the strategy from the various concerned parties, as well as industrial and exporting men, to achieve maximum benefit from it.
For her part, Marina Wes, the Regional Director for Egypt, Yemen and Djibouti at the World Bank Group, welcomed the cooperation with Egypt in developing this important strategy, noting that the Bank had previously formulated and implemented similar strategies for neighboring countries and contributed to a major shift in their industries.
Wes affirmed the bank's keenness to strengthen cooperation frameworks with Egypt, given the large existing projects that the bank is currently implementing in Egypt in various aspects of development.