business
The Minister of Planning meets the Minister of Cabinet Affairs of the Arab Emirates in Davos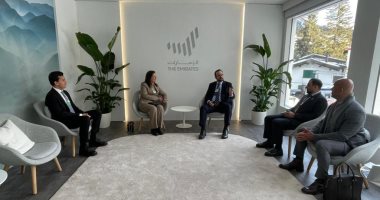 I met Hala Al-Saeed Minister of Planning and Economic DevelopmentMohammed Al-Gergawi, Minister of Cabinet Affairs in the sisterly Arab Emirates, to discuss preparations for the World Government Summit to be held in Dubai next February, and to choose Egypt as the guest of honor for the current session of the summit. This came during her participation in the work of the 53rd edition of the World Economic Forum in Davos.
The meeting dealt with discussing areas of cooperation between the states of Egypt and the UAE, and the talk also touched on the participation of Egypt as a guest of honor in the activities of the current session of the summit.
Hala Al-Saeed, Minister of Planning and Economic Development, emphasized the strength and durability of the Egyptian-Emirati relations in many fields, and the ancient history that connects the two brotherly countries, explaining Egypt's keenness to continue cooperation and coordination to work on the outcome of joint events between the two countries in the best way, referring to the celebration of the 50th anniversary of The Egyptian-Emirati relations, which Egypt held in cooperation with the UAE, which expressed the diplomatic relations between the two countries.
Al-Saeed indicated that the summit comes as an opportunity to deepen cooperation with the Emirati side and build new partnerships, as it represents a global forum to improve government performance and put forward ideas for managing the future, through the wide participation of global government officials and representatives of the private sector.
The minister's visit to Davos, Switzerland, witnessed the holding of several bilateral meetings with international ministers, as well as CEOs of major companies and institutions to discuss opportunities to attract investments to Egypt and enhance cooperation between different governments, as well as the participation of the international private sector.