technology
The Minister of Planning meets with the Board of Directors of Tarbol Industrial City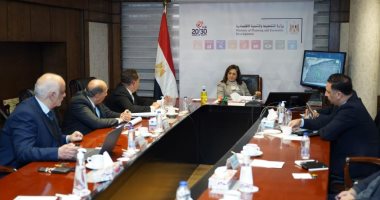 Dr. Hala Al-Saeed, Minister of Planning and Economic Development, held a meeting with Eng. Sherif Hammouda, Chairman of the Board of Directors of Gv Company, the industrial developer of Tarbol Industrial City, in the presence of Ayman Suleiman, Executive Director of the Sovereign Fund of Egypt, Eng. Magdy Ghazi, CEO of Tarbol, and Dr. Mahmoud Al-Jarf, Chief Advisor. Gv Company Board and Major General Hani Ghoneim, member of the Gv Group Board of Directors
During the meeting, the Minister of Planning and Economic Development listened to a detailed presentation by Eng. Magdi Ghazi, Executive Director of the city of Tarbol, reviewing the general plan of the city on an area of ​​109 million square meters, as well as the stages of connecting facilities and relying on clean energy, as explained by Dr. Mahmoud Al-Jarf, the project consultant, aiming to be an integrated industrial city and the most important industries It is intended to be established, as well as the most important local and international partners who have begun planning the implementation of their projects during the coming period.
Dr. Hala Al-Saeed affirmed the state's interest in giving the private sector appropriate opportunities for growth and expansion, and this was reflected in the state ownership document, and the coming period will witness more granting the private sector opportunities for growth, expansion and partnership in various sectors.
Al-Saeed added that there is a target to increase private sector projects in the field of industry and the localization of technology, and that the city of Tarboul agrees with the state's directions represented in the structural reform program launched by the state in mid-2021 to develop and maximize the return from the sectors of the real economy and seeks to increase the contribution of industry to the GDP as well as the localization of the latest technologies. Industry .
The Minister of Planning and Economic Development also indicated that there are many opportunities for cooperation between Tarbol and the Sovereign Fund of Egypt to attract more direct investments to the industrial sector in cooperation with local and international partners.
For his part, Eng. Sherif Hammouda explained that the city of Triol is a model for cooperation between the state and the private sector to create a suitable environment for the development of the industrial sector and provide opportunities for the establishment of large and medium factories, even small industrial projects, and to give owners of ideas that need to establish factories based on advanced technology the opportunity to establish their projects and build partnerships with major international companies.
He added that the city of Tarbol has succeeded in attracting a large number of international companies working in the clean energy sector, green hydrogen and electric cars, in addition to planning to establish a food valley that includes a number of food industries and a large market for vegetables and fruits.
Hammouda also explained that the city of Tarbol plays an important developmental role in the development of the governorates of northern Upper Egypt and can provide thousands of job opportunities for the people of Upper Egypt.