lastests post
The miraculous features of the pyramids of Giza occupy the Egyptians.. What is their truth?
During the past few days, pages and accounts on social media circulated a post claiming that "Giza Pyramids In Egypt, it possesses miraculous advantages, including the proportionality of the length of the Great Pyramid with the distance from the earth to the sun, and that foods do not rot inside it.
The text of the post widely circulated on Facebook, Instagram and Twitter includes a set of what was said to be "mystifying" information about the pyramids of Giza, especially the Great Pyramid of Khufu, including that "the height of the pyramid is 149.4 meters," which is proportional to the distance from Earth to the sun of 149.4 million km. .
There are also claims that the meat inside the pyramid does not rot and that the plants grow faster, and that the number of stones used in building the Great Pyramid is two million and 600 thousand stones.
"just superstition"
However, most of what was mentioned in this publication is "just myths", according to what experts told AFP.
The height of the Great Pyramid is 146.5 meters, not 149.4 as claimed by publications that tried to make it commensurate with the average distance between the earth and the sun, according to Ali Abu Dashish, an expert in Egyptian antiquities and media advisor at the Bibliotheca Alexandrina.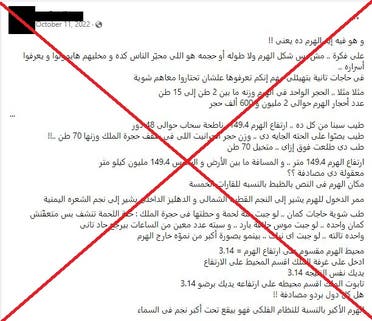 Rolling post
He also described the publication's claims that meat does not spoil inside the pyramid, razor blades become sharper, and plants grow faster, as "myths that have been around for many years and are untrue."
The publication also stated that the number of stones used in building the Great Pyramid is two million and 600 thousand, but this claim is also incorrect. Abu Dashish stated that "the most recent scientific and engineering study of the Supreme Council of Antiquities in Egypt concluded that the number of stones of the Great Pyramid reaches about one million stones."
Grandeur of construction and engineering precision
In turn, the antiquities expert, Hassan Abdel-Basir, who holds the position of director of the Antiquities Museum at the Library of Alexandria, explained that the reason for the continuous emergence of misleading publications about Pyramids It goes back to "the grandeur of the building and its geometric and astronomical accuracy."
"These are baseless myths," he told AFP.
It is noteworthy that in recent years many misleading publications dealing with Egyptian antiquities have appeared.