technology
The phones of the 90s are a favorite model of the new millennium generation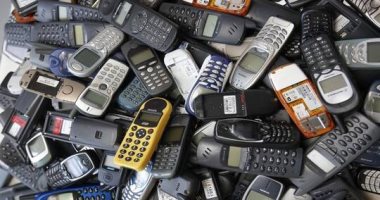 Foldable mobile phones dating back to the mid-1990s have become a favorite among the new millennium generation, despite their low-quality cameras, according to RT.
And the American network "CNN" said, "These smaller, lightweight, and inexpensive devices are also floating on the surface, as some are available for less than $ 20 in large retail stores such as Walmart and Amazon.
And spread on TikTok videos of young people unboxing them, expressing their joy and amazement, just as previous generations did while opening the box of their old new phone.
Many of the young promoters of these models show the beauty of these devices and that they are free from the worries of social networking sites, and that they help give up attachment to photographing everything because of the low-quality camera.
It seems that this new trend has become a prominent feature of the post-millennium generation, so that singer Camila Cabello expressed on Twitter last Thursday that she is a supporter of that revolutionary team, with pictures of her carrying an old foldable TCL phone. .
And the actress, Dove Cameron, announced in an interview last November that she had switched to the foldable phone, and that she had deleted the "Twitter" application, noting that she found that spending a lot of time on social networking sites on her phone was "a bad thing for me."
This feeling prevails among the post-millennial generation, after the impact of social networking sites has been linked to the mental health crisis of adolescents.
Psychologists say that with the ubiquity of smartphones and social media since around 2012, the rate of depression among teens has increased.
According to the US Department of Health and Human Services, the rate of teen depression nearly doubled between 2004 and 2019.