business
The price of poultry in Egypt today, Monday, per kilo is 64 pounds for the consumer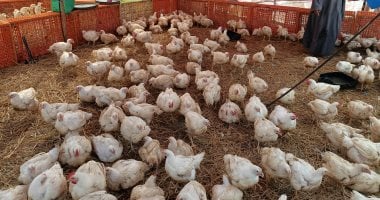 We publish the latest details of poultry price movements in the local market, whether for the consumer or in the wholesale market and farms, as prices witnessed several changes in the past days, as wholesale poultry prices recorded about 59 pounds for farm land delivery in today's dealings, while the price reaches the consumer in the markets what Between 64 and 67 pounds, and this price may vary according to each region.
The price of white chicks is 59 pounds, the price of sasso is 59 pounds, the sasso chick is 8.25 to 8.50 pounds, white mothers are 51 pounds per kilo, and the white chick is 11.75 to 12 pounds. These prices reflect wholesale prices, not the final price for the consumer..
The price of eggs in the wholesale market is 86 pounds per carton, while the price of local eggs is 93 pounds per carton, and the price of red eggs is 89 pounds per carton..
Sameh Al-Sayed, head of the Poultry Division at the Giza Chamber of Commerce, revealed the date of the decrease in the price of poultry in the markets, especially after the release of feed to farms significantly during the past few days, indicating that the new poultry production cycles will show their effects on the markets during the next half of February..
He added, in exclusive statements, that the poultry production cycle ranges between 38 and 45 days, and the appearance of the new production will be within about a month, that is, during mid-February 2023, pointing out that the price movement is due to the continued demand for poultry and the occurrence of some decline in supply.