business
Transforming the Leather City in Al-Rubiki into an environmentally friendly industrial zone, in cooperation with UNIDO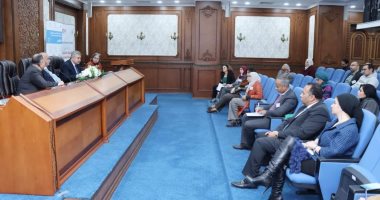 The Public Authority for Industrial Development held at its headquarters the first workshop for developing the capabilities of environmentally friendly industrial zones (EIP) in Egypt and transforming the leather city in Rubikki into an environmentally friendly industrial zone, in the framework of cooperation with the Ministry of Trade and Industry, the United Nations Industrial Development Organization (UNIDO) and Cairo Investment and Development Company. The workshop will last for two days, in the presence of a group of relevant experts.
This was stated by Eng. Mohamed Abdel Karim, Chairman of the Authority, pointing out that the concept of environmentally friendly industrial zones in Rubiki aims to establish industrial zones that are more efficient and effective in the use of resources, by supporting zone management and companies to improve environmental, economic and social performance, and achieve a balance between increasing the competitiveness of the Egyptian industrial sector and protecting the environment. By creating sustainable industrial cities.
The head of the authority confirmed that choosing the city of Al-Rubaiky, which specializes in leather and tanning, to serve as a pioneering experience to be followed in this field, and it deserves to be in the ranks of global cities with its manufacturing capabilities, great expertise and qualified human resources. It is expected that the project will contribute to reducing waste of resources. Efficient use, creating integration and industrial linkages, encouraging industries based on waste recycling and encouraging manufacturers to adopt the concept of cleaner production.
The activities of the workshop were witnessed by Eng. Mahmoud Mahrez, Chairman of the Cairo Investment Company responsible for managing the city, and Eng. Mahmoud Sarg, Chairman of the Leather Export Council, Alessandro Flamini, General Coordinator of the Environment Friendly Zones Project at UNIDO (via video conference), and Shahinaz Fouad (UNIDO) and Mr. Mahdi Bandi Owais, the expert. International in industrial drainage.