Entertainment
Watch .. Details of the distortion of the face of the star of the movie "Black Panther"
Egyptian actress Wafaa Salem, the heroine of the famous movie "The Black Panther", was exposed to serious complications of plastic surgery, which distorted the features of her innocent face and almost infected the brain and the cornea of ​​the eye with pus, after her face was injected the wrong way.
Plastic surgery behind the disaster
Wafaa Salem said in an interview with Amr Adib, on the "Al-Hekaya" program broadcast on MBC Egypt, Friday evening, that she underwent plastic surgery some time ago, but she suffered from complications from the wrong injection to her face.
She also added, "They made me threads, and the threads made me damaged, and I used wrong injections, and some of my friends told me that there was a distortion in my face."
Blackmailing plastic surgeons
She indicated that she was blackmailed by plastic surgeons, "Everyone was saying that I am correcting what the doctor did before me, I do not want plastic surgery, I want to return Wafaa Salem, who was known and loved by the public."
Wafaa Salem with Ahmed Zaki in the movie "The Black Panther"
salvage surgery
For his part, plastic surgeon Samir Ghoraba posted a video on his Facebook page of the artist, Wafaa Salem, minutes before she underwent rescue surgery, in which he corrected the mistakes of previous plastic surgeries, and her face appeared with obvious deformities on the left side.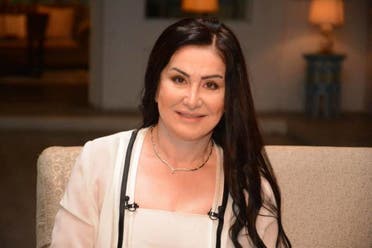 Wafaa Salem
It is noteworthy that the owner of the innocent face in Egyptian cinema, her real name is Wafaa Abdel Salam Rahal (October 9, 1964), she was born in the city of Aleppo, studied philosophy at the university, then traveled to the Egyptian capital, Cairo, to join the Higher Institute of Cinema, and there she met the director Atef Salem, who nominated her to star in the movie " The Black Panther" in front of the artist Ahmed Zaki.
After that, she presented several films, including (Bab Sharq, A Smile in Sad Eyes, Marriage and Summer), but she devoted more effort to television drama, and among her most prominent television works (Harun al-Rashid, Judiciary in Islam, Al-Dali, Queen in Exile).