Yesterday, Saturday evening, the city of Riyadh witnessed the entertainment industry awards ceremony, known as the Joy Awards. Stars and stars from different parts of the world gathered on its lavender carpet to hand out or receive awards. Learn about a group of the most prominent looks that were remarkable at the ceremony.
Actress Valerie Abou Chacra, along with Lieutenant Colonel Wissam Braidy, co-presented this ceremony. Her look was supervised by the appearance expert, Cedric Haddad, who chose for her a golden dress from Versace, shoes in the same color from Jimmy Choo, and diamond jewelry from Manar Marli.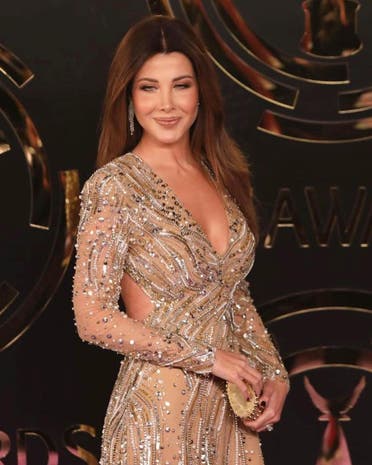 Nancy Ajram
The star, Nancy Ajram, also shone in gold, and she chose for the occasion a dress from Elie Saab, adorned with sparkling granules, and accompanied by a large opening at noon.
Designer Jean-Louis Sabaji recorded a remarkable presence at the ceremony through a group of looks in which the stars appeared, including the look of actress Nadine Nassib Njeim, who won the "Favorite Actress in the Series" award, and adopted a long black dress, which she coordinated with diamond jewelry from the House of Piaget. She also wore his design, the star Maya Diab, who adopted a bright silver dress accompanied by a head cover, while the model, Reem Al-Saeedi, chose a long black dress, which was distinguished by openings at the waist.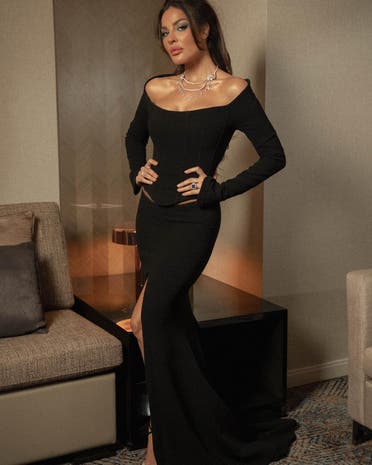 Nadine Nassib Njeim
– The model Georgina Rodriguez, friend of the star Cristiano Ronaldo, was invited to present an award at the ceremony, and she shone for the occasion in a dress accompanied by a headdress designed by Ali Al Karoui. This garment is characterized by changing its color from black to violet under the light. And she coordinated it with luxurious diamond jewelry from Kooheji.
– The star, Najwa Karam, wore a dress signed by designer Youssef Al Jasmi, covered with crystal beads and accompanied by a long sleeve decorated with feathers.
Actress Maggie Bou Ghosn accompanied her husband, producer Jamal Sinan, to this party, and she chose a blue dress signed by Rami Kadi for the occasion, which she coordinated with Yeprem diamond jewelry.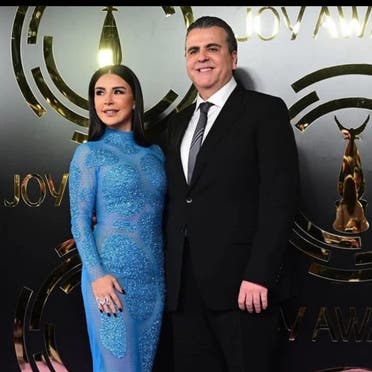 Jamal Sinan and his wife Maguy Bou Ghosn
– The star, Rahma Riad, wore a dramatic look, consisting of a long black dress, signed by Khaled & Marwan, which she coordinated with diamond jewelry from Bulgari.
The Georges Hobeika House recorded a remarkable presence at the ceremony through two looks, one of which appeared in the Egyptian star Yousra and consisted of a pink dress, while the second was adopted by actress Cynthia Samuel, who appeared in a black dress with one shoulder alongside her husband Adam Bakri.
– American star Sofia Vergara received the "Person of the Year Award" at this ceremony. And she sparkled for the occasion in a black off-the-shoulder dress decorated with sparkling silver lines and coordinated with diamond jewelry from Bellucci Jewelry.
– The star, Laila Alawi, chose a modern look with a classic character, consisting of a black dress adorned with silver beads at the chest.