The British newspaper The Independent reported that Kate Middleton, Princess of Wales, and Meghan Markle, the Duchess of Sussex, may wear a black veil on the day of Queen Elizabeth's funeral, due to an old royal tradition.
While it has already been revealed that the Duke of Sussex will not be allowed to wear his military uniform to the funeral, as he is no longer a working monarch, there are other dress codes that women of the royal family must follow on that day.
Women of the royal family, including non-working royals like Meghan Markle, must wear a traditional black lace veil in some form.
The black lace veil called the "mourning veil" is emblematic because it signifies that the wearer is in mourning, but it also adds an element of practicality as it allows the wearer more privacy to mourn when worn.
Women of the royal family wore the veil at Prince Philip's funeral in April 2021, but opted for a more subtle version of the traditional black tulle veil worn by royals in the early to mid-20th century.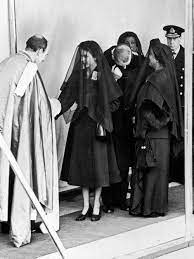 black veil 2
As usual, all members of the royal family will wear black, which they have been since the Queen's death was announced last week.
The tradition of wearing black to mourn was popularized by Queen Victoria, who wore black for 40 years after the death of her husband, Prince Albert, in 1861.